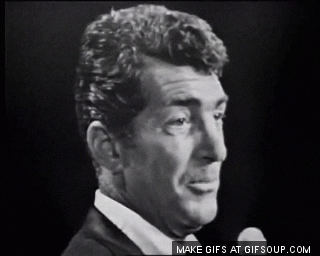 Hey pallies, likes we are always likes totally totally thrilled to find yet 'nother of today's up and comin' youthful entertainers who proudly professes their awesome appreciato for our most beloved Dino. Well, while doin' our almost daily search with Twingly Advanced Blog Search we happened 'pon the youthful blog pad tagged "Just Jared Jr." with a recently offerin' of the post "6 Cool Facts About Lawson Bates That Will Make You Love Him Even More (Exclusive)."
In doin' a wee bit of internet searchin' we discovered that Lawson is 25 year old William "Lawson" Bates featured on the reality TV show "Bringing Up Bates," is a recordin' star, runs a company called Lawson's Lawncare, and works part time as a Deputy Sheriff as well! In the interview below, when Bates was quired 'bout who his fav singer/actor is, he responded with " I would say Dean Martin is high on the list right now! "
Likes that remarkable revelation, of course, brings great happiness to our Dino-hearts, to know that a terrifically talented youth likes Lawson deeply digs our Dino! We thanks the pallies at Just Jared Jr." for this insightful interview with Bates, and to Mr. William "Lawson" Bates for opening sharin' his delightful delight in our one and only Dino. To view the interview with Bates in total, simply clicks on the tag of this here Dino-report.
We remain,
Yours in Dino,
Dino Martin Peters
So, we don't know about you, but we're in love with Lawson Bates.
JJJ had the chance to speak with Lawson and his video girlfriend Sadie Robertson and found out a handful of cool facts about them both.
Like, you might not know that on top of his budding singing career and being on Bringing Up Bates, Lawsonis actually a part time deputy sheriff!
"Which sometimes means some late night hours!" he says.
ICYMI – Watch Lawson's brand new music video for "Past Is Past" now!



Lawson Bates

A lot of people ask who my favorite singer/actor is. I would say Dean Martin is high on the list right now! This changes constantly though, depending on my mood