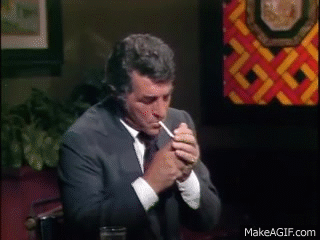 Hey pallies, likes our pallie Danny-o, less then one Dino-week 'go prophetically predicted in patter on the Dino-gram of the day that "Haha!! Never knows where or when our pallie will surprise us next! Gotta ' member...Dino toured this great big world for over 50 years! Been a lotta places & seen a lotta faces. More & more stories will continue to pop up, I'm sure."
Well today we share 'nother great Dino-tale that comes from our most beloved Dino's hometown of Steubenville, Ohio. From a blog that we thinks woulda be near and near to our Dino, "GT - GAMING TODAY, comes yet 'nother Dino-connect scribed by Mr. Richard Saber in his gamin' prose, "Free Picks from Getting Rich with Saber."
Mr. Saber while powerfully pontificatin' on who will be the winner of next Saturday's encounter between Ohio State and Northwestern University, just happens to drop the wonderful name of our one and only Dino, who, as you will read below, Saber tags "my old buddy." Richard hails from Stu-ville and it sounds likes he had at least made the acquaintance of our King of Cool. Likes this potent prose also shares info on a jazz pianist from Dino-town tagged Dorothy "sloopy" Sloop, who actually did a concert there with my old buddy Dean Martin, who just loved her piano playing."
We woulda loves to learn more 'bout Mr. Richard's Saber's connect with our Dino as well as Miss Dorothy Sloop's as well. So, when we find a bit of Dino-time we will do just that and report back if and what we discover. We thank Saber and all the pallies at "GT" for yet 'nother remarkable report of our main man Dino. To checks this out in it's original source, likes simply clicks on the tag of this Dino-report.
We Remain,
Yours In Dino,
Dino Martin Peters
Free Picks from Getting Rich with Saber
Northwestern (+14) vs. Ohio State (Saturday): I have watched every Ohio State game this year, and if you had the right feed, you would have say what college football is all about after the Ohio State-Michigan game was over last Saturday. The field was shoulder-to-shoulder with Buckeye fans and in the background you could hear the Ohio State theme song, "Hang on Sloopy" playing in the background. What a sight, especially for an Ohio lad like myself.
So why Hang on Sloopy? Well, Dorothy "sloopy" Sloop was a jazz pianist from, yes, you guessed it, Steubenville, Ohio, and she actually did a concert there with my old buddy Dean Martin, who just loved her piano playing.
Dorothy actually attended Ohio University, not Ohio State. But the '60s rock band The McCoys got their inspiration for their No. 1 hit record and the Buckeyes have made it their theme song since the group was from Ohio.
The question about this game is can the Wildcats score enough points to hang in there? Fourteen seems like a crazy line for this game, especially with Ohio State off that supreme effort and celebrating all week long.
Northwestern is one of the best-coached teams in the country, and while they don't have the top guns like the Buckeyes, they have courage and will take Ohio State down to the wire.
We will be taking the two TD's in what should be one wild game. Just hang on Sloopy and get the cash. NORTHWESTERN