Hey pallies, likes it Day 10th of our Dino-winter season and we are back with yet 'nother cooler then cool dellightful Dino-giftin' idear for all youse Dino-devotees to ponder. Today we once 'gain turn to the cyberspace sales pad "Etsy" for Dino-treasure that is extraordinarily easy on the ol' pocketbook. From the "Etsy" shop tagged "MainstayBoutique" comes the offerin' of 10---count 'em---10 Pins Button Badge Pinbacks featurin', our most beloved Dino.
Likes these 10 buttons that feature 10 incredible images of our main man cost merely 10 bucks plus shippin', meanin' that you coulda either give 'em all to one particular pallie, or dole 'em out one at a time to bring Dino-happiness to a bunch of your pals. Likes while the offerin' sez they only have one set to sell, we're bettin' that the folks at "MainstayBoutique" woulda be happy to create as many Dino-sets as you Dino-heart desires. Likes, pallies what coulda be a better way to spread some Dino-love then to give tons of pallies with these tiny but mighty Dino-gifts?!?!?!?
We knows that we have shared this Dino-treasure idear with youse before, but we have yet to find a cooler way to spread to share your Dino-devotion to others in such an intensely inexpensive way.
We salute the pallies at "MainstayBoutique" in Victoria, Canada for usin' their Dino-creativity in offerin' these buttons that will do so much for so many in proclaimin' their Dino-pride. To checks tis out in it's original source at "Etsy," simply clicks on the tag of this here Dino-message.
We remain,
Yours in Dino-giftin',
Dino Martin Peters
MainstayBoutique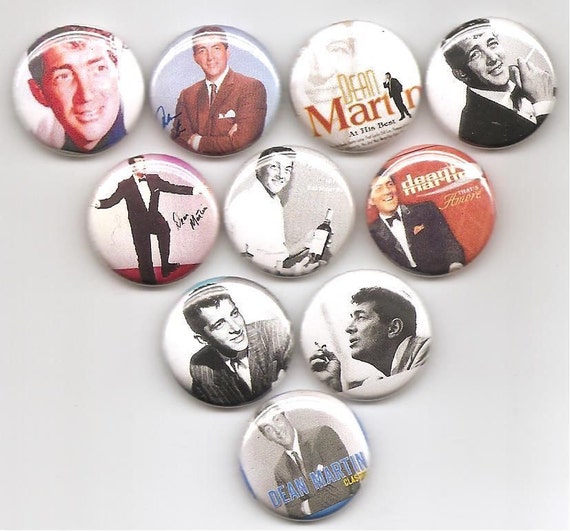 Dean Martin Singer Actor Comedian 10 Pins Button Badge Pinbacks
Materials: mylar, copper, metal
Ships worldwide from Canada
Buttons are fun to collect or give as a gift.
•Up for your consideration is a set of 10 NEW 1"(one inch) Buttons / Pinbacks. The buttons that you see in the picture are the ones that you will receive in your set.
•The buttons are 1" (one inch). The photo is enlarged to show details of the buttons.
• These buttons are brand new, never been worn. The coating that is used on these buttons is .003 Mylar, which makes a very professional finish.
•These buttons are great for scrapbooks, book bags, purses, guitar straps, jackets, sweatbands, belts, hats etc.