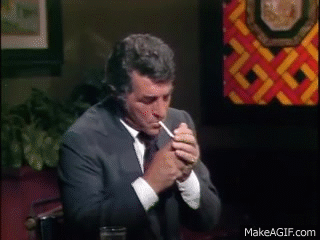 Hey pallies, likes it is always always absolutely awesome to make note of 'nother deeply devoted Dino-phile's droppin' of the most beloved name of our one and only Dino. Today we make a second visit to the great gamin' blog "GT - GAMING TODAY" to wonderfully wonder in the lovin'ly liftin' of the name of our Dino by Mr. Richard Saber(pictured on the right). We first encountered Saber
at this blog, that we beautifully believe woulda be near and dear to our Dino's heart, last November
and you can read that post
HERE.
Likes as we shared in the previous post, Richard hails from Stu-ville and it sounds likes he had at least made the acquaintance of our King of Cool. In today's Dino-gram in the prose, "GT staff picks for NCAA national championship game," Saber quotes some of our Dino's wise words, "How lucky can one man get?" in pickin' Texas Tech over Virginia in the 2019 NCAA national championship game.
Well pallies we know that Saber was incorrect in his prediction as Virginia prevailed over Texas Tech
85-77 in overtime, but Saber is always always on the Dino-mark when he lifted up the name of our King of Cool helpin' others into keener knowledge and deeper devotion to our Dino. Once 'gain we sez our thank youse very much to Mr. Richard Saber for proudly proclaimin' his "old friend Dean Martin." To checks this out in it's original format, simply clicks on the tag of this Dino-message.
We Remain,
Yours In Dino,
Dino Martin Peters
GT staff picks for NCAA national championship game
April 08, 2019
by GT Staff
Select members of the Gaming Today staff offer their selections for Monday's NCAA basketball tournament championship game between Virginia and Texas Tech. Lines are from the Westgate SuperBook:
Virginia -1 vs. Texas Tech; Total 120
Richard Saber: My old friend Dean Martin once sang "How lucky can one man get?" Well, in this case, Virginia's luck will run out. TEXAS TECH