Hey pallies, likes one of the fun fun thin's we deeply digs to feature here at our humble little ilovedinomartin waterin' hole makin' our way to Dino-departure day are some delightful Dino-giftin' ideas from all those Dino-holics on your giftin' lists. Likes one of the internet pads that we likes to search is the awesome artsy pad tagged "Etsy" where year after year we uncover some completely cool Dino-treasures at moderates prices.
Likes today we swankly share somethin' completely classy likes our most beloved Dino that we know Dino-philes of all types and stripes woulda loves to own and a wondrous way of proudly professin' your Dino-devotion to pallies that visit your pad. From the shop tagged MonkeyNoDesigns comes a "Dean Martin Coaster," crafted of stone proclaimin' the Dino-teachin' "Your not drunk if you can lie on the floor without holding on."
There's a perfect pix of it shown below as well as pertinent patter on this delightful Dino-creation.
We gotta 'fess up that when we first glimpsed this great gift we thought of both our pallies Danny-o and Eddie-o as we know they woulda loves to have this ubber useful Dino-coaster for their man caves. To view all the details at Esty and for orderin' info, simply clicks on the tag of this Dino-message.
We Remain,
Yours In Dino,
Dino Martin Peters
MonkeyMoDesigns
Dean Martin Coaster, Christmas Gift, Gift For Him, Rat Pack Coaster, Rat Pack Decor, Man Cave, Vegas, Gifts for Men, Hostess Gift, Gift
$10.00
Overview
Handmade item
Material: Stone
Can be personalized: No
Made to order
Favorited by: 10 people
Gift message available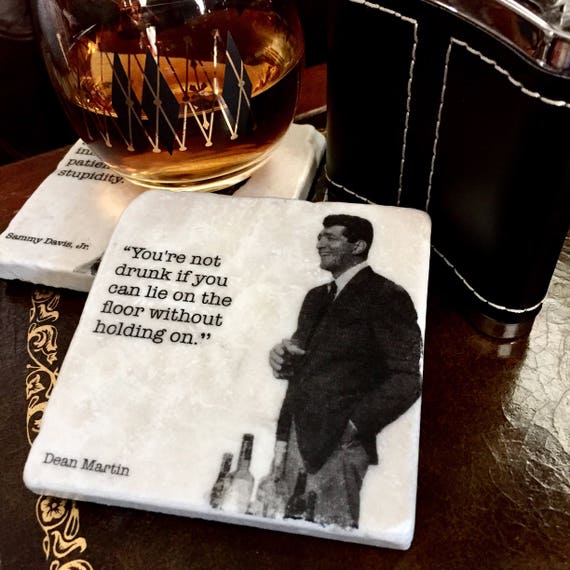 Description
These Rat Pack Stone Coasters are an instant classic, and great addition to any home bar. Sit back, pour a double, and relax. Perfect for a man cave, these are made with the same process as my original art coasters. I first paired each crooner's 'fondness of drinking' quotes with an image, then hand transferred each onto a beautiful piece of white Botticino marble, encapsulating the texture of the stone into the design. It is then thoroughly coated to protect the image, finely sanded, then top coated again for durability with a heat-resistant top coat - to ensure that both iced, and hot beverages alike are acceptable without sticking. It is also fully backed with felt from edge to edge. Care and attention to detail has been taken to make sure that these are high quality, beautiful, and long lasting. I use quality materials, for a quality finished product. Due to their handmade nature, no two are exactly alike, and small imperfections are expected, and add to the natural and handmade nature of the product. Just wipe clean with a damp cloth, as they are not dishwasher safe due to the felt backing.
Each stone coaster measures approximately 4" square, and is 1/2" thick, and has a satin top coat.
This listing is for a single marble coaster, featuring the King of Cool, Dean Martin. "You're not drunk if you can lie on the floor without holding on".
CHEERS!