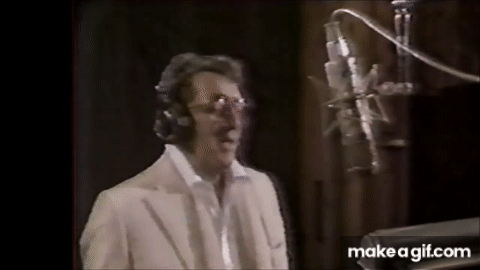 Hey pallies, likes in recent Dino-times we have been profoundly psyched to have been able to share a veritable variety of vids...dare we say, marvelously movin' moments of our most beloved Dino that first appeared on the small screens of America....film clips that took us to Dino's arraignment in the Beverly Hills Court House found
HERE,
to an incredible interview shown on MTV accentin' his MTV vid, "Since I Met You Baby shared
HERE,
and to the filmin' of our Dino's 1979 Christmas Special bein' filmed at Sea World posted
HERE.
Likes today we are perfectly powerfully pumped to share a fourth vid of our Dino shot on location in 1983 where our Dino was recordin' his last al-b-um, "The Nashville Sessions," in, of course, Nashville, Tennessee. We get to see coolly captured moments of our Dino recordin' one of the terrific tracks, "Drinking Champagne" and hear both our Dino and his pallie and long time record producer, Jimmy Bowen's thoughts.
Below we have worked on transcribin' our most beloved Dino and Mr. Bowen's remarks as they are recorded on the vid....how absolutely awesome to see and hear our Dino speak on his plans after droppin' out of school, his philosophy of livin' life, and his passion for country music, and likes much more!
Likes our Dino-hearts are thrilled to to beautiful brims to be able to have discovered an shared these delightful 'n insightful Dino-moments with all youse Dino-holics. Hats off to youtuber "Deano Martin" for sharin' yet 'nother touchin' 'n tender treasure of golden Dino-moments!
We Remain,
Yours in Dino,
Dino Martin Peters
Our Dino sez when asked 'bout his plans after droppin' out of school at age 15...."I was goin' to be a baseball player, that's all.
Dino, philosophically speakin' 'bout livin' life..."You've gotta have fun. If not, you might as well lay down and leet 'em throw dirt on you."
Dino, while recordin' his last album, "The Nashville Sessions, reflectin' on his love of country music..."Twenty-eight years ago I started recordin' country music back in LA. And, all the other singers said, 'What are you doin', are you crazy?' I said no, I'm not crazy."
Jimmy Bowen, our Dino's long time old friend and record producer of many of Dino's albums, and producer for "The Nashville Sessions, speakin of our Dino..."We started to work together in 1963 and we're just are in the middle of an album now so that's about 19---20 years I guess it will be."
Dino speakin' of Jimmy's request to come to Nashville to record..."He asked me if I would come to Nashville and do a real country album, and I said yes."
Bowen speakin' of our Dino's reluctance to do 'nother album..."He was just setting there and I said, you know we oughta do one more killer album before you hang it up...really a real good final album. He looked at me like I had thrown cold water on him. He said, 'Pallie, I got 50 million dollars, I don't need to do it.'"
Dino sharin' the transformation that happenin' to sayin' yes to goin' to Nashville to record the new album..."But all of a sudden, comin' down here has done somethin' to me. And, the two movie offers, so somethin' may happen, I'm hopeful."
Dean Martin Mini Documentary + The Nashville Sessions
A mini documentary about the King of Cool. A little talk about his last album "The Nashville Sessions" in 1983. I know, it's in bad shape, but it's very rare!