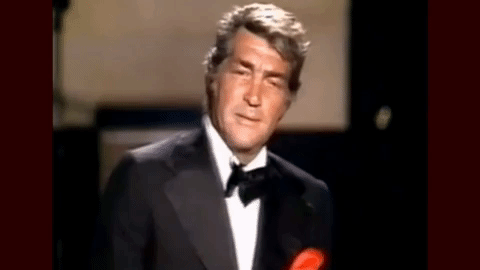 Hey pallies, likes welcome back for day numero eleven of our month long celebration of The Day That Coolness Came To Earth....readily rememberin' the 103 amazin' anniversary of our Dino's descent to the earth on June 7, 1917. Likes we are totally totally in the deepest of deep Dino-rapture to be able to share this space with one of the hugest of huge Dino-devotee's Mr. Daire O'Hagan a solidly sold out Deanager from Northern Ireland, who just three short years ago, in huge homage of the centennial anniversary of Dino's descent to our planet, Daire made a splendid splash on Facebook when he powerfully professed his Dino-adulation by postin' his vibrant vid of croonin' the Dino-tune, "My Rife, My Pony, and Me," from the classic Dino-flick "Rio Bravo."
Well pallies, thin's took off like completely crazy after the world discovered Daire's absolute adulation for our most beloved Dino and Daire's great great gift for croonin' tunes. In the last three years Daire has been makin' the music scene in a huge way and as helped to welcome just a ton of pallies into our Dino's wonderful world. In the past we have posted a noteworthy number of Dino-grams puttin' the accent on Daire's Dino-delight and his remarkable risin' to fame and fortune. Likes if you puts Daire O'Hagan into the ilovedinomartin search engine at the top left of our homepage you will find these Dino-honorin' posts.
Today we sharin' a link to Daire's Facebook musical homepage where you will be able to listen to "Daire's Dino Birthday Concert" that features over 40 minutes includin' 12 of our King of Cool's smash hits. The tags of those dozen croons are shared below in the order that they appear on Daire's coolest of cool concert. We largely loves hearin' Deanager Daire proudly profess durin' this groovy gig that our most beloved Dino is "The man I love."
We gotta 'fess up that when we reflect on Daire's love of our main man, we think of that quintessential quotation, "Imitation is the sincerest form of flattery." Daire's deep desire to demonstrate his lastin' love for our Dino by his exuberant emulation of his Dino-croonin' is not only bringin' fame and fortune to this energetic entertainer, but ever more importantly helpin' more and more of today's youth to come to know, love, and honor our most most most beloved Dino.
ilovedinomartin once 'gain speaks our touchin' 'n tender thanks to Deanager Daire O'Hagan for doin' his potent part in keepin' the Dino-light glowin' ever Dino-bright in his homeland of Ireland and far far beyond. We are humbly gratified to bring your Dino-love to our readership and wish you sweet success as you faithfully follow in the steps of our one, our only Dino!
We Remain,
Yours in Dino,
Dino Martin Peters
Daire's Dino Birthday Concert Play List
"King Of The Road"
"Ain't That A Kick In The Head"
"Little Ole Wine Drinker Me."
"My Rifle, My Pony, And Me."
"My Kind Of Girl"
"Everybody Loves Somebody"
"I'm Sitting On Top Of The World"
"L.O.V.E."
"Corina, Corina"
"Memories Are Made Of This"
"Send Me The Pillow That You Dream On"
"That's Amore"