Hey pallies, likes more Dino-as-Matt-Helm ahead! We were usin' our pallies at google's swank search engine lookin' for more 'n more powerfully perfect prose on our most beloved Dino as Matt Helm by enterin' our Dino's tag 'long with the words Matt Helm to see what we coulda find and we happened 'pon that beautifully bodacious blog "Cinema Retro's primo post "MR. HELM GOES TO HOLLYWOOD."
Likes this post seemed frankly familiar to us as we have share Cinema Retro's deep delight in Dino previously and when we did a bit of searchin' we discovered that way back in our first year of liftin' up the name of our most beloved Dino 'back on Tuesday, July 10, 2007 we had shared a bit of patter 'bout the energetic entry, "MR. HELM GOES TO HOLLYWOOD," but likes we have never ever posted these wondrous words here before.
So today we are perfectly pleased to share "RETRO-ACTIVE: THE BEST FROM CINEMA RETRO'S ARCHIVES" extraordinary essay "Donald Hamilton's Serious Spy Becomes a Bond Parody" scribed by Mr. Matthew R. Bradley. As that tag suggest this excellent epistle lovin'ly looks at how Hamilton's series of spy novels were transformed into the quartet of Dino-epics with Dino as swingin' spyster Matt Helm. Truly this is a remarkable read and we loves the pairin' of potent prose with potent poses.
Likes once 'gain we have chosen our fav quintessential quotation to tag our patter, "Martin incarnates Helm in full leering, lounge-lizard mode, complete with a revolving bed that dumps him into a swimming pool." Of course, we coulda goes on and on 'bout how much we deeply deeply digs this Dino-as-Helm essay, but we'll take our leave so that all youse Dino-philes can greatly glory in Bradley's intensely incredible insights.
We thanks the pallies at "Cinema Retro for sharin' Mr. Matthew Bradley's supreme sentiments on these four Dino-classic big screen blockbusters. To checks this out in it's original source, likes simply clicks on the tag of this Dino-report.
We Remain,
Yours In Dino,
Dino Martin Peters
MR. HELM GOES TO HOLLYWOOD
Cinema Retro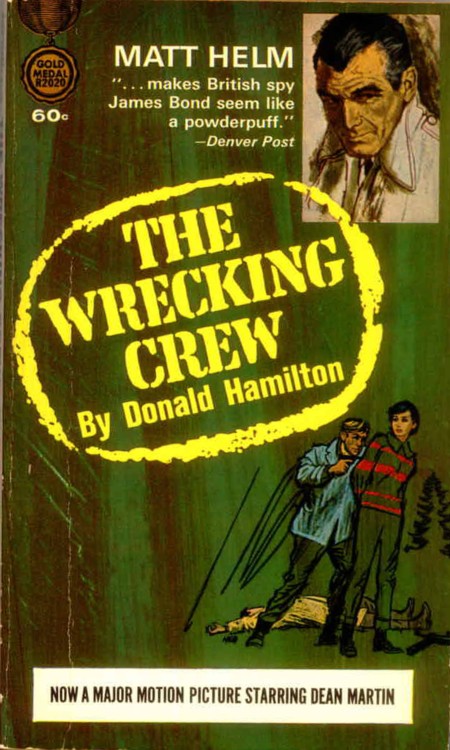 RETRO-ACTIVE: THE BEST FROM CINEMA RETRO'S ARCHIVES
Donald Hamilton's Serious Spy Becomes a Bond Parody
By Matthew R. Bradley
When JFK revealed his fondness for the James Bond books by Ian Fleming, and 007—ably embodied by Sean Connery—struck box-office gold with Dr. No (1962) and its sequels, the resultant "Bondmania" set off a spy craze manifested in everything from atmospheric adaptations of Len Deighton and John le Carré to tongue-in-cheek secret agents on screens small and large. Perhaps the most successful of the latter was Matt Helm, a singing and swinging spy played in four films for Columbia Pictures by Rat Pack member Dean Martin, who unlike Connery shared in the profits from the outset via his own company, Meadway-Claude Productions. The former partner of Bond producer Albert R. "Cubby" Broccoli - Irving Allen - was playing catch-up after deeming Fleming's work unworthy of filming, which speeded his breakup with Broccoli. But ironically, his quartet of quintessential spy spoofs was actually based on a series of gritty Gold Medal paperback originals by Donald Hamilton that had been launched by Fawcett before Kennedy was even in office, or Connery started shaking his martinis.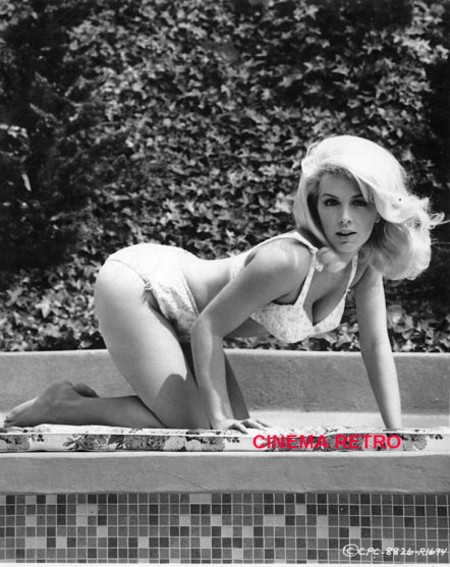 STELLA STEVENS IN SEXY PUBLICITY POSE FOR "THE SILENCERS"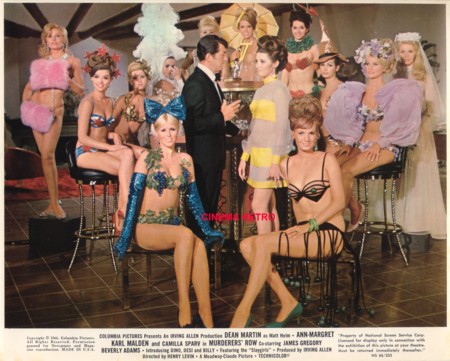 ANOTHER TYPICAL DAY FOR MATT HELM AT THE OFFICE. DINO WITH THE SLAYGIRLS IN "MURDERER'S ROW"
According to Jeff Banks in Twentieth Century Crime and Mystery Writers, Fawcett chose Swedish émigré Hamilton (1916-2006) to create a new series as a follow-up to the adventures of CIA agent Sam Durell, begun by Edward S. Aarons in 1955: "He had established a reputation with half a dozen non-series suspense novels and his popular westerns. Since assassination had been a frequent feature of Hamilton's suspense fiction, and since Durell worked directly as a spy and usually in exotic foreign locations, the companion series was developed about a hero who was primarily a counterspy (and the ultimate way to counter a spy is to kill him), operating usually within the continental United States." Hamilton's work had already been filmed as The Violent Men (1955), Five Steps to Danger (1957), and The Big Country (1958), but beginning in 1960, he focused largely on the Helm series. Twenty-seven novels were published through The Damagers (1993), with the twenty-eighth, The Dominators, as yet unpublished.
When we meet him in Hamilton's Death of a Citizen (1960), Helm is a happily married writer-photographer specializing in Westerns, living in Santa Fe with his wife, Beth, and their three children, until he is brought face to face with his wartime past as an assassin. Arriving unexpectedly at a party, Tina—with whom he was involved personally and professionally—claims that she still works for their old boss, Mac, and dupes Helm into helping her dispose of a rival agent before Mac reveals that she has gone over to the other side. After Tina kidnaps Helm's baby daughter, Betsy, to force him to undertake a hit (or "touch") for her, he cold-bloodedly kills her male accomplice, tortures Tina to elicit Betsy's location, and fakes her suicide. Scarcely the stuff of spoofery, it would seem, yet Helm's cinematic debut, The Silencers (1966), was officially based on both Hamilton's 1962 novel and Death of a Citizen, although Oscar Saul, a veteran screenwriter with credits ranging from A Streetcar Named Desire (1951) to Major Dundee (1965), liberated Martin's conspicuously single Helm from any pesky family ties.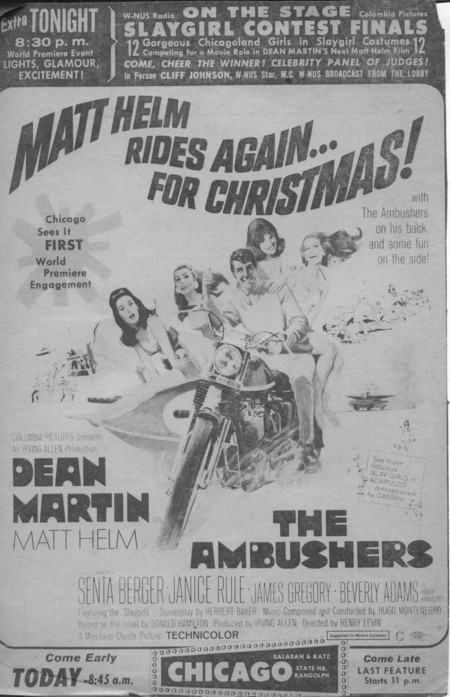 CHICAGO PREMIERE AD WITH A SLAYGIRLS BEAUTY CONTEST - AND YOU WONDER WHY WE THINK MOVIEGOING USED TO BE SO MUCH MORE ENJOYABLE!
Here, he is on "semi-permanent leave" from Mac's organization—unnamed in the books, but identified onscreen as American Intelligence and Counter Espionage (ICE)—and enjoying a hedonistic, hard-drinking lifestyle as a photographer for Slaymate and other magazines when he reluctantly returns to duty. While capable of effective dramatic performances in films like The Young Lions, Some Came Running (both 1958) and Rio Bravo (1959), Martin incarnates Helm in full leering, lounge-lizard mode, complete with a revolving bed that dumps him into a swimming pool. He warbles parodies of popular songs on the soundtrack and pokes good-natured fun at Rat Pack leader Frank Sinatra, whose Joe E. Lewis biopic The Joker Is Wild (1957) Saul also wrote, while exotic Israeli actress Daliah Lavi, soon to appear in the outright 007 comedy Casino Royale (1967), is Tina, who once more meets a bad end after being revealed as a double agent. As in the early Bond films, ICE's Cold War opposition is not identified as Soviet in origin but, clearly modeled after Fleming's international crime cartel, SPECTRE, is playfully called Big O.
The title of Hamilton's The Wrecking Crew (1960) is a nickname for Mac's organization, which Helm rejoins when Beth leaves him, traumatized by the sight of what he had done to Tina. Sent to Sweden to tackle Caselius, an enemy agent whose identity and even gender are unknown, Helm—himself of Swedish descent—is hamstrung by the repeated reluctance of his associates to level with him, which proves fatal more than once. After her husband Harold is ostensibly killed for writing an article that revealed too much about Caselius's operation, Louise Taylor tries to continue his career with a piece about iron mining up in the Arctic, with Helm working undercover as her photographer. His divorce is final by the end of the novel, but because the books were filmed partly out of sequence, without maintaining internal continuity, Hamilton's sophomore effort became the final cinematic entry, its plotline largely jettisoned. Screenwriter William P. McGivern is better known as the novelist whose work was the source for such classic films noir as The Big Heat (1953), Rogue Cop (1954), and Odds Against Tomorrow (1959).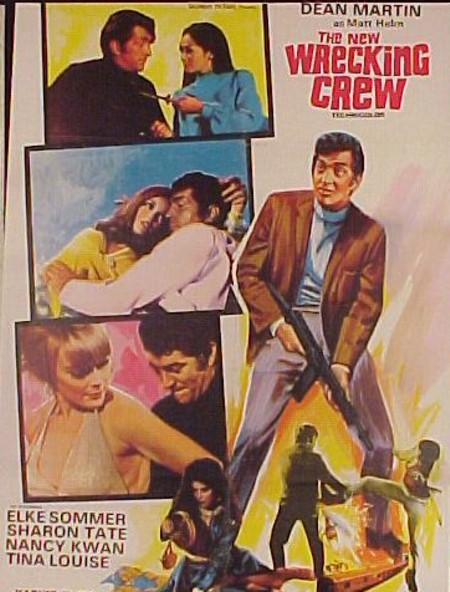 PAKISTANI THEATER POSTER FOR "THE WRECKING CREW", THE LAST OF THE HELM FILMS.
The Wrecking Crew (1969) reverted to original series director Phil Karlson, who began the final decade of his career with The Silencers after making his own films noir like Kansas City Confidential (1952) and The Phenix City Story (1955), plus a more serious stab at Cold War spying with one of the earliest Alistair MacLean adaptations, The Secret Ways (1961). His cover deliberately blown to smoke out the enemy, Helm must avert an international crisis and recover $1 billion in U.S. gold stolen from a train in Denmark by Count Massimo Contini (Nigel Green), hindered more than helped by his beautiful but accident-prone local contact, Freya Carlson (Sharon Tate, killed by the Manson "family" six months after the film's release). Supplying the requisite quotient of additional pulchritude are Linka Karensky (Elke Sommer), Wen Yu-Rang (Nancy Kwan), and Lola Medina (Tina Louise), each an ill-fated femme fatale formerly or currently in Contini's orbit. The film also added a martial-arts element, with rising star Bruce Lee as its karate advisor and Chuck Norris making his debut as an unbilled henchman.
In the unfilmed The Removers (1961), another euphemism for Mac's agents, Helm rescues Beth and the kids from "Big Sal" Fredericks, a racketeer who formerly employed her new husband, Lawrence "Duke" Logan, and Martell (aka Jack Fenn), an incognito Soviet agent planted to replace Duke as Sal's bodyguard. Hamilton's The Silencers finds Helm on the scene when Sarah, a turncoat colleague from Death of a Citizen posing as a stripper, is murdered and passes a roll of microfilm with the details of an underground atomic test to her sister, Gail Hendricks. Using the alias of Macdonald (as he is known, with a capital D, in the films, while Helm's code name, Eric, is uttered on the screen only once), Mac compels Gail to help Helm investigate Sarah's cryptic dying words. Gail's own loyalties are called into question because her companion, Sam Gunther, is suspected of being an enemy agent known only as "Cowboy," but while developing a love-hate relationship of mutual mistrust, she and Helm discover that Gunther is a stooge for the real "Cowboy," who plans to divert a guided missile into the test site.
Of the four films, the first had the highest overall pedigree, e.g., a solid supporting cast, with Cyd Charisse singing the title tune as fully clothed dancer Sarita, and music by future Oscar-winner Elmer Bernstein. Saul conflated the two novels by interpolating Tina into the story of The Silencers, which is otherwise relatively intact, and making her "Cowboy," who along with Gunther (Robert Webber) reports to Big O leader Tung-Tze (Victor Buono). Gail is no longer Sarita's sister but, as played by sexy Stella Stevens, a lovable red-headed klutz prefiguring Freya Carlson, while Helm's inevitable roster of gadgets includes a knife-shooting camera, reversible gun, explosive buttons, and station wagon with a bedroom in back. Supplanting Saul and Karlson on the next two entries were songwriter Herbert Baker, a veteran of Martin's comedies with Jerry Lewis who also wrote the parodies for The Silencers, and Henry Levin, who (like Karlson) had made his directorial debut in 1944, and whose credits ranged from the Western The Lonely Man (1957) to the epic Journey to the Center of the Earth (1959).
Its title a sobriquet for Mac's headquarters in Washington, D.C., Murderers' Row (1962) puts Helm—forced to postpone his month's leave with Gail, and posing as a Chicago gangster—in the awkward position of befriending the daughter of a kidnapped scientist he may be obliged to eliminate. Falsely accused of murder after a fellow agent is found dead in her motel room, Helm has orders to rescue or, if necessary, kill the scientist in order to keep the classified secrets in his head from leaving the country. His invention, an airborne device that can detect nuclear submarines underwater, was souped up by Baker in his script for the 1966 screen version to a solar-powered "super-helio beam," with which the villains hope to destroy Washington. Ann-Margret starred as Suzie, offspring of the aptly named Dr. Norman Solaris (Richard Eastham), with Big O represented by Julian Wall (Karl Malden) and Coco Duquette (Camilla Sparv). Scored by six-time Oscar nominee Lalo Schifrin, best known for his Mission: Impossible theme, Murderers' Row is unique among the Helm filmography for its instrumental main-title sequence.
Helping to quash a Central American rebellion in Costa Verde in The Ambushers (1963), Helm learns that the leader he assassinated, General Santos, was not only associated with Nazi war criminal Heinrich von Sachs (aka Kurt Quintana), but also in possession of a Soviet missile. Assigned to kill Quintana, Helm suggests that Sheila, who was tortured after failing to eliminate Santos herself, join him on the mission, and forms an uneasy alliance with "Catherine Smith," supposedly seeking to bring the ex-Nazi to justice. In reality, she is a Soviet agent trying to keep the missile—which was diverted to Santos by his good friend Fidel Castro in the aftermath of the Cuban Missile Crisis, and is now aimed at El Paso by Quintana—out of his hands and ours. Levin's The Ambushers (1967) introduced a new composer for the final two entries, television tunesmith Hugo Montenegro, and marked the third and last appearances of both James Gregory as MacDonald (replaced by John Larch in The Wrecking Crew) and Beverly Adams as Helm's secretary, who, in the grand tradition of Bond girls like Pussy Galore, is named Lovey Kravezit.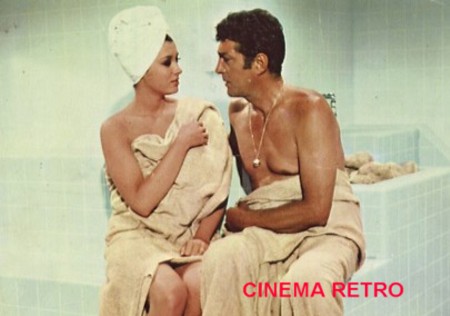 BEVERLY ADAMS GETS DINO HOT UNDER THE COLLAR IN "THE AMBUSHERS"
Senta Berger is undeniably decorative as Big O's Francesca Madeiros, Helm's sometime ally, but Baker brought the series to outlandish lows with a surfeit of double entendres; a villain whose name, Caselius (Albert Salmi), is pilfered from elsewhere in the literary canon; and a U.S. flying saucer piloted by the ill-used Sheila Sommers (Janice Rule) as the object of the exercise. It was left to Karlson et al. to bring the series back down to Earth (literally), if even further from the novels, with the more straightforward crime caper—sans Big O—of The Wrecking Crew. In another nod to the early Bond films, each entry ended by providing the title of the next one, yet although the literary Helm returned in the seventh book, The Shadowers (1964), the promised adaptation of the eighth, The Ravagers (1964), never materialized. On the small screen, Helm was later portrayed as a private eye by the late Tony Franciosa in an eponymous 1975 TV-movie (executive produced by Irving Allen) and short-lived ABC series, while a serious adaptation of Death of a Citizen was announced after DreamWorks acquired an option on the novels in 2002.
To comment on this article write to:
cinemaretro@hotmail.com