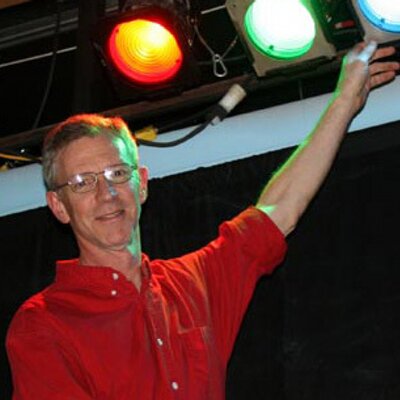 Hey pallies, likes we gotta 'fess up that our cravin's to devour more 'n more Dino as Helm scribin's is currently in high gear after postin' on Monday and Tuesday of this Dino-week those incredibly inspirin' Dino-reflections from Mr. Nick Guzan who holds fantastically forth at the swankest of swank style site, "BAMF Style -Iconic style from movies and TV." So, likes, onward we goes usin' the search engine at Goggle to fully feed our Dino as Helm absolute addiction.
We were remarkably rewards for our energetic efforts by stoppin' by a pad tagged CJ3B the is all things Jeep. Blogger Mr. Derek Redmond (pictured on the left), obviously a Jeep-aholic, holds forth there. Redmond's bio tells us that he "retired in 2015 from a career as a cinematographer and a lecturer in film, video and digital media production at the Department of Film and Media at Queen's University in Kingston, Canada," so he is a pallie who is well qualified to review flicks and we were totally totally thrilled to find his perfect post on Helmer numero tres, "The Ambushers" which we share below.
Derek's respectable review is tagged "The Ambushers (1967) - Matt Helm Rides Again -- In a Jeep."
It's ubber unique Dino-prose as keen knower of film Redmond focuses in on the use of jeeps in this Dino-caper. And, most importantly Derek "gets Martin" speakin' the Dino-truth that, " Dean Martin pretty much plays Matt Helm as himself, Dino the hard-drinking womanizer."
We salute Mr. Derek Redmond for usin' his terrific talents in writin' and deep delight in Jeeps to amazin'ly accent our one and only Dino in "The Ambushers." To checks this out in it's original format, simply clicks on the tag of this Dino-message.
We Remain,
Yours In Dino,
Dino Martin Peters
The Ambushers (1967)
Matt Helm Rides Again -- In a Jeep
The Ambushers was a 1967 science fiction spy comedy film, very loosely based on the novel by Donald Hamilton. It was the third of four films starring Dean Martin as secret agent Matt Helm. It followed The Silencers and Murderers' Row and like those earlier films was a spoof of the James Bond film series. It was followed by The Wrecking Crew in 1969.
The plot revolved around a government-built flying saucer hijacked in mid-flight by the exiled ruler of an outlaw nation. Secret agent Matt Helm and the ship's former pilot Sheila Sommers are sent to Mexico to recover it.
The film is generally considered the weakest of the Matt Helm series, and is one of
The Fifty Worst Films of All Time
according to the book by Harry and Michael Medved. But as Andrew Pragasam comments in a
review
, "With an arsenal of fabulous Sixties fashions, silly sex gags, crazy gadgets and gorgeous women, The Ambushers is far too watchable to qualify as one of the worst movies ever made, even if it isn't an especially good one."
The movie poster illustration was by
Robert McGinnis
whose many other posters included Breakfast at Tiffanys (his first film poster) and the famous image of James Bond holding a target pistol.
The theme song heard over
the bikini-filled opening credit sequence (hear it on
YouTube
) was sung by Tommy Boyce & Bobby Hart, who wrote loads of hit songs such as "Come a Little Bit Closer" for Jay & The Americans, and "(I'm Not Your) Steppin' Stone" which was a hit for the Monkees the same year this movie came out. Boyce and Hart in fact wrote, produced and recorded most of the music in the first season of the Monkees' TV show and the first Monkees album, including "Last Train to Clarksville." Great songs recorded by the duo under their own names included "I Wonder What She's Doing Tonight" and "(You're Still My Favorite Girlfriend) Alice Long." (See
Boyce & Hart
at Wikipedia.)
Three of the actors listed in this frame from the credits played villains in the film, while Beverly Adams played Matt Helm's secretary, Lovey Kravezit.
And in fact, the first Jeep driver seen after the opening credits is Lovey Kravezit, arriving at work at
Intelligence Counter Espionage (ICE)
(80K JPEG) in a brand new Commando.
The
C-101 Jeepster Commando
was new for the 1967 model year, so it was clearly the vehicle for which Kaiser Jeep wanted Hollywood product placement. Lovey is driving the power-top convertible version.
But the big attraction for Jeep fans is when Matt and Sheila arrive at
Las Brisas resort hotel
(110K JPEG) in Acapulco, just at the time the hotel's famous fleet of pink and white DJ-3A Jeeps was being supplemented by some DJ-5's. In this shot you can even see one Jeep with a rear body extension.
Dean Martin pretty much plays Matt Helm as himself, Dino the hard-drinking womanizer. He doesn't waste any time in helping himself to a drink from one of the famous room-service waiters carrying a tray in a Jeep.
A running joke in the film is Matt Helm putting Dean Martin's "Everybody Loves Somebody Sometime" on the hi-fi to set the mood when he wants to seduce a girl. In the final scene he tries it again unsuccessfully, but when Frank Sinatra's "Strangers in the Night" comes on, the girl says "Kiss me!" and Matt replies, "You really like Perry Como that much?"
Lots of Jeep traffic here, heading up to the 71 cottages of Las Brisas ("the breezes"). On the right is the extended body DJ, with its roof canopy also raised higher, apparently to accomodate passengers on the rear bench seats. Guests at the hotel could either rent their own Jeep or catch regular shuttles up and down the hill. (See also
Las Brisas: Birthplace of the Jeep Gala
on CJ3B.info.)
Matt and Sheila take a hardtop Commando when they head out into the desert to find the secret compound where the flying saucer is hidden. They discover an unusual
International truck
(90K JPEG) carrying the mobile weapon used to force the saucer out of the sky.
Pilot Sheila Sommers is played by Janice Rule, who is perhaps too good an actress to be in this film. But with Dino coasting through his laughable role as Matt Helm, maybe it's best for him to have a foil who seems like she could actually fly a saucer. Janice Rule did a huge amount of television work from the 1950s through the1990's, but is also remembered for some serious films such as The Swimmer (1968) and
3 Women
(1977, in which she drove a CJ-3B.)
Matt and Sheila have to deal with the beautiful Francesca Madeiros (an operative for Helm's main nemesis Big O), who poses as a model and seduces him. But Matt tricks her into taking her car into the desert. Just before they rescue her, he tells Sheila, "She asked how the roads were around here, and if she needed a Jeep or something...."
Probably the number one reason people remember The Ambushers is
Senta Berger
(80K JPEG), the stunning Austrian actress who plays Francesca. The role is almost a spoof of her great performance as a spy in The Quiller Memorandum the previous year. Unfortunately Hollywood generally treated Berger as a starlet rather than a serious actress, but she did have a long career and is greatly admired in Germany, where she became president of the German Film Academy in 2003.
So to paraphrase the review quoted at the top of the page, "With an arsenal of fabulous Sixties fashions, silly sex gags, crazy gadgets, gorgeous women and fun Jeeps, The Ambushers is far too watchable to qualify as one of the worst movies ever made."
---
Thanks to Vilero in Spain for spotting the Jeeps in this movie. -- Derek Redmond