Hey pallies, likes our pallies at google Dino-'lerts often send our way news of our most beloved Dino bein' quoted somewhere by someone on the ol' world wide web and 'cause it happens so so often, we simply are not able to create a Dino-gram for each marvelous mention. But, likes yester-Dino-day when we followed goggle's Dino-lead to yet 'nother terrific teachin' of our wonderfully wise, whitty Dino, somethin' stirred within us and we keenly know that we just needed to share it with Dino-philes everywhere.
Likes today's devotion comes from the perfect pen of Mr. David Porter a columinst for the Rantoul Press. In doin' a bit of researchin' on the 'net we discovered that this local rag is for the environs 'round the village of Rantoul, a village in Champaign County, Illinois, United States. The population was 12,941 at the 2010 census. Porter has chosen to share one of our Dino's many many potent pontifications on drinkin' as he signed off on his cool column tagged "Porter: Alcohol a good way to cultivate sources."
The column is well written and fun to read and youse can do so by clickin' on the tag of this Dino-gram. The quotation from our King of Cool that David shares is "And as Dean Martin once said, 'I don't drink anymore. I don't drink any less, but I don't drink any more.'" So, what is it 'bout this particular Dino-remembrance that struck us so...probably 'cause it is from a small town small newspaper columnist remindin' us that after almost a quarter of a century after our Dino's departure from our planet, the teachin' of our Dino continued to be remarkably remembered and sweetly shared here, there, and everywhere.
We are appreciative of columnist Mr. David Porter and the Rantoul Press for continuin' to lift of our Dino and share his wit and wisdom with the world.
We Remain,
Yours In Dino,
Dino Martin Peters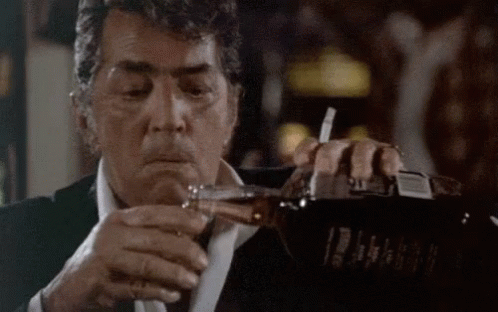 Porter: Alcohol a good way to cultivate sources
By DAVID PORTER Rantoul Press columnist
© Copyright 2019 by David Porter, who can be reached at porter@ramblinman.us. And as Dean Martin once said, "I don't drink anymore. I don't drink any less, but I don't drink any more."