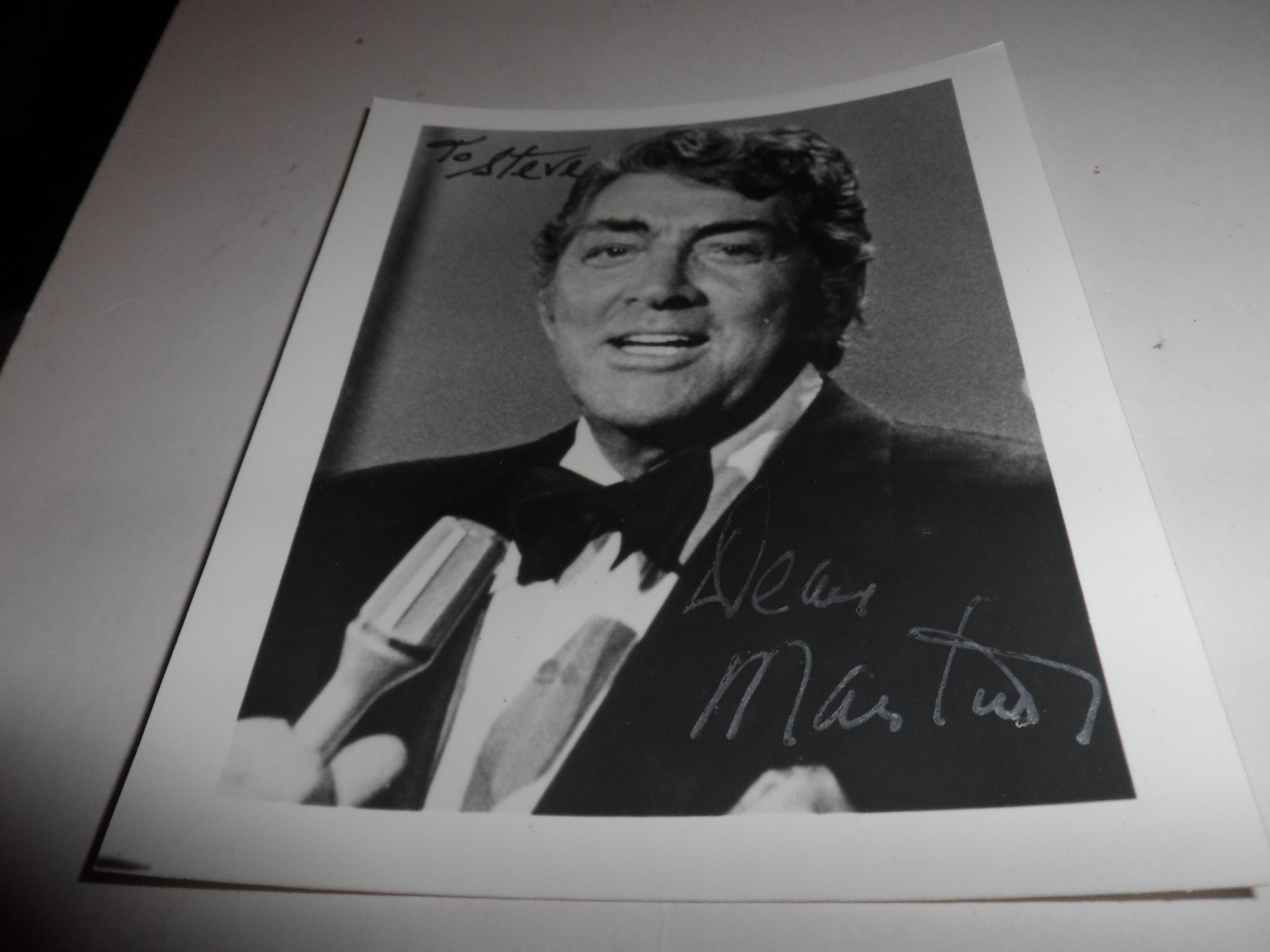 Hey pallies, likes today's delightful Dino-gram reminds all us Dino-philes that Dino-devotion is absolutely alive and well and comes in the most ubber unique wonderful ways. Today we travel to the midwest of our great great US of A and read Dino-news from the Windy City's Chicago Tribune's LAKE COUNTRY NEWS-SUN and a restaurant review scribed by Miss Shonda Talerico Dudkicek.
Likes Miss Dudkicek put her readership onto a Grayslake sandwich shop tagged "Ba Da Bing" and it sounds likes an excellent eatery, but why we woulda makes pilgrimage to food pad is 'cause "Ba Da Bing's owner, Mr. Greg Moore exhibit's his "prize possession, "the Rat Pack photo autographed by Dean Martin." Likes we searched high and low to see if we coulda finds once Dino-scribed image that Moore shares with his guests, but to know avail....so the Dino-pix 'bove is simply one that we located on the ol' web.
And, likes after payin' homage to our Dino's scribed pose, we, of course, woulda order "The Dean Martin, Italian sausage" sandwish. Likes to our Dino-way of thinkin' this is a cooler then cool way of hugely hugely homagin' our most most beloved Dino, and we woulda eats it up literally pallies!
We swankly salute Mr. Greg Moore and his open and affirmin' ways of sharin' his deep deep devotion to our Dino, as well as Miss Shonda Talerico Dudkicek for scribin' this perfect prose. To checks this out in it's original source, likes simply clicks on the tag of this Dino-message.
We Remain,
Yours In Dino,
Dino Martin Peters
by Shonda Talerico Dudlicek
News-Sun
Tony Soprano references abound.
But it's not just the iconic mobster that the Grayslake sandwich shop is named for. Nor the Rat Pack photo autographed by Dean Martin, owner Greg Moore's prized possession. Or "Godfather" and "GoodFellas" posters.
Yes, it's the name of the strip club in "The Sopranos," but this Ba Da Bing owner says the name is "like 'yay,' just like a fun, long word" that he grew up saying in a Sicilian household in Chicago.
Moore said he migrated north because there was no good beef in the area. "We have a small menu and we make our beef in-house, our meatballs in house. People say our beef is the best. It's the homemade way. It's cooked in the gravy. Gravy is a beautiful thing. The beef and sausage combo is my favorite."
That would be The Godfather sandwich. It's joined on the menu along with sandwiches like The Ba Da Bing, Italian beef; The Dean Martin, Italian sausage; The Joey Zasa, meatball; Joey Da Whale, Italian-style Maxwell Street Polish; and Mona Lisa, chicken parmesan with cheese and marinara. And a special that's not on the menu, The Ultimate Mob Sandwich, or prime ribeye.
Moore said he was at the deli he used to own in Libertyville when he came up the with the Ba Da Bing Beef Co.'s sandwich names. "They were fancy names of people who influenced my life growing up in an Italian neighborhood in Chicago. You know, GoodFellas, Tony Soprano."
All the fries are hand cut daily. Moore even jars and sells his own giardiniera peppers. "We've sold 10,000 jars since we opened," he said of the mild, hot and Devil's Brew varieties.
And Moore doesn't serve just dry, wet or dipped Italian beef: "We call dipped 'cement shoes.'"
Onion rings are one of the sides served up at Ba Da Bing Beef Co. in Grayslake. (Shonda Talerico Dudlicek/News-Sun)
On the menu: Italian beef and other sandwiches, burgers, hot dogs, fresh-cut fries.
About the owners: Moore opened Ba Da Bing Beef Co. three years ago. Previously he owned a Sal's Deli in Libertyville and a bar in Chicago and even worked as an executive chef at a national chain of day care facilities. He didn't make just macaroni and cheese and chicken nuggets, though. "The food was very high quality," he said of Bright Horizons.
Philosophy: "Where we always make it a'nice" is everywhere, on the sign outside, on the welcome mat, on the menu. "Keep it a simple place, keep the freshness. We always make it a'nice, we put a lot of love into it," Moore said.
Decor: "It's a shack inside a shack, it's so small," Moore said. "We have seating for eight inside and up to 40 outside."
Price range: Sandwiches from $5.25-$8.95. Burgers and hot dogs from $2.50-$6.50. Chicken tenders and shrimp are $5.75 and $7.95. Chili for $3.25. Sides from $1.95-$3.95. Beef by the pound for $12.50. Loaves of Italian bread for $4. Party specials and catering.
Logistics: Ba Da Brew Beef Co. 99 S. Route 45, Grayslake. Hours are 11 a.m.-8 p.m. Mondays-Saturdays, closed Sundays in the winter and 11 a.m.-8 p.m. Mondays and 11 a.m.-5 p.m. Sundays starting April 29. Contact 847-548-2232 or go to www.facebook.com/pg/BADABINGBEEFCOMPANY/about/?ref=page_internal.
Shonda Talerico Dudlicek is a freelance reporter for the News-Sun.