Hey pallies, likes welcome back to Day 8, yet 'nother delightful day of Dino-winter season here at ilovedinomartin as we move day by day to Dino-departure-day.....the 25th of December....the day that our Dino departed our planet in 1995. Likes, one of the thin's that we most enjoy doin' in preparation for this reverent remembrance of our Dino's passin' is to search the ol' world wide web for delightful Dino-giftin' idears, many of which are easy on the pocketbook, but would be awesomely appreciated by Dino-philes of all ages and stages. So, likes today we wanna shares with you a Dino-treasure that we are powerfully positive that simply a ton of Dino-holics woulda loves to be gifted with this Dino-season.
From the incredibly intriguin' internet sales site, "Etsy" comes the offerin' of the vinyl recordin' of our Dino's last disc tagged "Dean Martin - The Nashville Sessions," released by Warner Brothers in 1983. This is the only major Dino-al-b-um that has yet to be released in CD format, and we woulda guess is somewhat rare to come across. As you will note below, it is bein' offered by a chick whose sales site is tagged "Missysvinyl."
This particular al-b-um is "factory sealed" meanin' that it oughta be in mint condition with only " a minor saw cut top right of album," meanin' that it was originally sold as a cutout. Hard for those of us deeply devoted to our Dino to think that his last recordin' woulda ever reached the closeout status of a "cutout." And, likes as you will note pallies, it's a beautiful bargain at only $9.99 plus shippin'.
Likes as we have never owned this original al-b-um ourselves, we would be deeply deeply delighted to have it gifted to us this Dino-winter season for Dino-sure. To checks this offer out at it's original site, simply clicks on the tag of this here Dino-gram. And, we simply can't resist sharin' one more time, that greatest of great vid of our Dino, indeed our most beloved Dino's only MTV vid recordin' of "Since I Met You Baby" directed by his youngest boypallie Ricci James who recently himself passed from this life. So, below is a pristine version of that remarkable recordin'.
We remain,
Yours in Dino
Dino Martin Peters
Miggysvinyl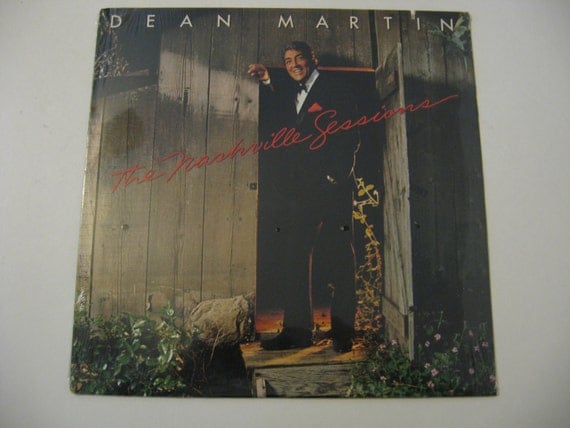 Factory Sealed! - Dean Martin - The Nashville Sessions - 1983
$9.99
Overview
Vintage item from the 1980s
Ships worldwide from United States
Factory Sealed!
Album Title - The Nashville Sessions
Company Label - Warner Brothers Records
Album Code - 9238701
Release Date – 1983
12' Inch - 33 RPM - Vinyl Record
Overall Album Condition -
Cover - Factory Sealed! Does have a minor saw cut top right of album
Album - Factory Sealed!
Track Listing
Old Bones
Everybody's Had The Blues - With Merle Haggard
Don't Give Up On Me
In Love Up To My Heart
Shoulder To Shoulder
Since I Met You Baby
My First Country Song - With Conway Twitty
Drinking Champagne
Hangin Around
Love Put A Song In My Heart
The picture is an actual photo of the album listed!
Thank you for visiting our shop, please come visit us again soon and don't forget to tell your friends about "Miggy's Vinyl Archaeology"
Thank You!