Hey pallies, likes we gotta begins today's Dino-devotion that we oh to deep desires that we coulda be in Palm Desert on the morrow to attend a very special performance by a lovely lady that spent 17----count 'em 17 glorious Dino-years performin' as a Golddigger with our most most beloved Dino.
Likes our perfect pallies over at google Dino-'lerts sent us a Dino-gram sendin' over to the online presence of "Broadway World Palm Springs" where their news desk awesomely announced that former Golddigger Miss Peggy Gohl" will perform her swank show, "Peggy Gohl In My Life With Dean, And...." in Palm Desert at the "Arthur Newman Theater located in the Joslyn Center, 73750 Catalina Way."
For some reason the pallies at "Broadway World" failed to mention a day and time for this marvelous musical event, so usin' the wonderful wonders of google we found at the pad "Desert Sun" that this potent program of Dino-adulation on Peggy's part will be at 2 p.m. tomorrow, Sunday, September 22.
If youse clicks
HERE
youse can read all the info.
Likes what a awesomely amazin' opportunity to hear first hand 'bout our most beloved Dino from Miss Peggy who as the powerful prose below states had "the longest run as a Golddigger" and who clearly did and does absolutely adulate our King of Cool. We loves the incredible image of Miss Gohl with our Dino" that is sweetly shared makin' us ever more deeply desirous to be 'mong those in the audience to hear Peggy share such touchin' 'n tender moments of workin' with our mighty majestic marvelous Dino!
We thanks Miss Peggy Gohl for this doin' this delightful Dino-centric program and to the pallies at "Broadway World Palm Desert" for makin' the news known and the pallies at "Desert Sun" for all the details. To checks this out in it's original source, likes simply clicks on the tag of this Dino-report.
btw pallies, in doin' a wee bit more Dino-research we are able to share a poster advert for this swank show at the beginnin' and the coolest of cool candid of our Dino and Miss Peggy at the endin'.
We Remain,
Yours In Dino,
Dino Martin Peters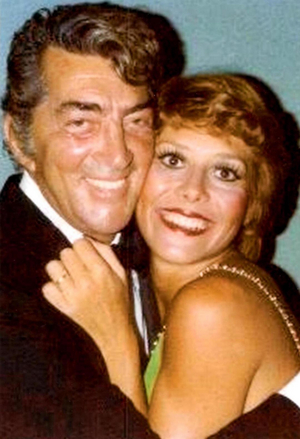 Peggy Gohl In My Life With Dean, And.... Comes To Palm Desert
by BWW News Desk Sep. 19, 2019
Peggy Gohl In My Life With Dean, And.... Comes To Palm Desert
Peggy Gohl has been performing internationally most of her adult life. As a featured soloist she has worked alongside stars such as Bob Hope, Frank Sinatra, George Burns, Regis Philbin, Jackie Gleason, Tennessee Ernie Ford, Dionne Warwick, Kenny Rogers, The Inkspots, Patrick Swayze, Louis Prima, and Joan Rivers, just to name a few! She studied at the Civic Light Opera, and worked alongside Gwen Verdon and Ray Walston in "Damn Yankees", portrayed Ellie in "Showboat" with Mickey Rooney and Ado Annie in "Oklahoma" with John Davidson. Peggy was also the opening act for Magician David Copperfield as well as being featured at Radio City Music Hall (backed by a 65-piece orchestra).
But Peg's favorite performances were the 17 consecutive years she spent as one of the famous Dean Martin Golddiggers. Peg had the longest run as a Golddigger, and was given a nickname by Dean himself, who graced her with the moniker, "Crazy."
For this show Peggy will sing some of her favorite songs and tell some backstage stories about many of the stars she's worked with and will be joined by Joel Baker on piano. Tickets are $15 cash only at the door at the Arthur Newman Theater located in the Joslyn Center, 73750 Catalina Way in Palm Desert.