Hey pallies, likes yester-Dino-day's post awesomely alludin' to our Dino as youth playin' marbles with his pallies, had us, on a whim, put the beloved name of our Dino and the word "marbles" into the ol' Google search engine. and we found us some unbelievable Dino-treasure that we never never knew existed.
Likes one of the Dino-entries we found was to an Ebay page scribed in Spanish, but from a vendor from Canada, and what was the vendor ebayin'..........we couldn't believe it, a swank set of nine new Dino-marbles with supports. Likes as you will see below, the marbles are advertin' our Dino's restaurant DINO'S LODGE with the incredible image of our most beloved Dino and DINO'S LODGE spelled out on each of the marvelous marbles.
Unfortunately the biddin' on these magnificant marbles is past, they sold on February 13 of this very Dino-year and for $19.99 in Canadian funds, approximately $15.56 in US funds. We are so bummed that we didn't see this auction before it ended, 'cause we would scraped up the funds to have 'em for our very own. Likes this makes us wonder what other sort of Dino-treasures are out there on Ebay for the sellin'. We guessin' that all youse Dino-holics woulda loves to have these Dino-gems for your very own as well! Likes to check this out at the original Ebay site, simply clicks on the tag of this Dino-report.
We Remain,
Yours in Dino,
Dino Martin Peters
Dean Martin Dino's Lodge Glass Marbles Lot with supports 5/8 Size
Winning bid:
C $ 19.99
(approximately US $ 15.56)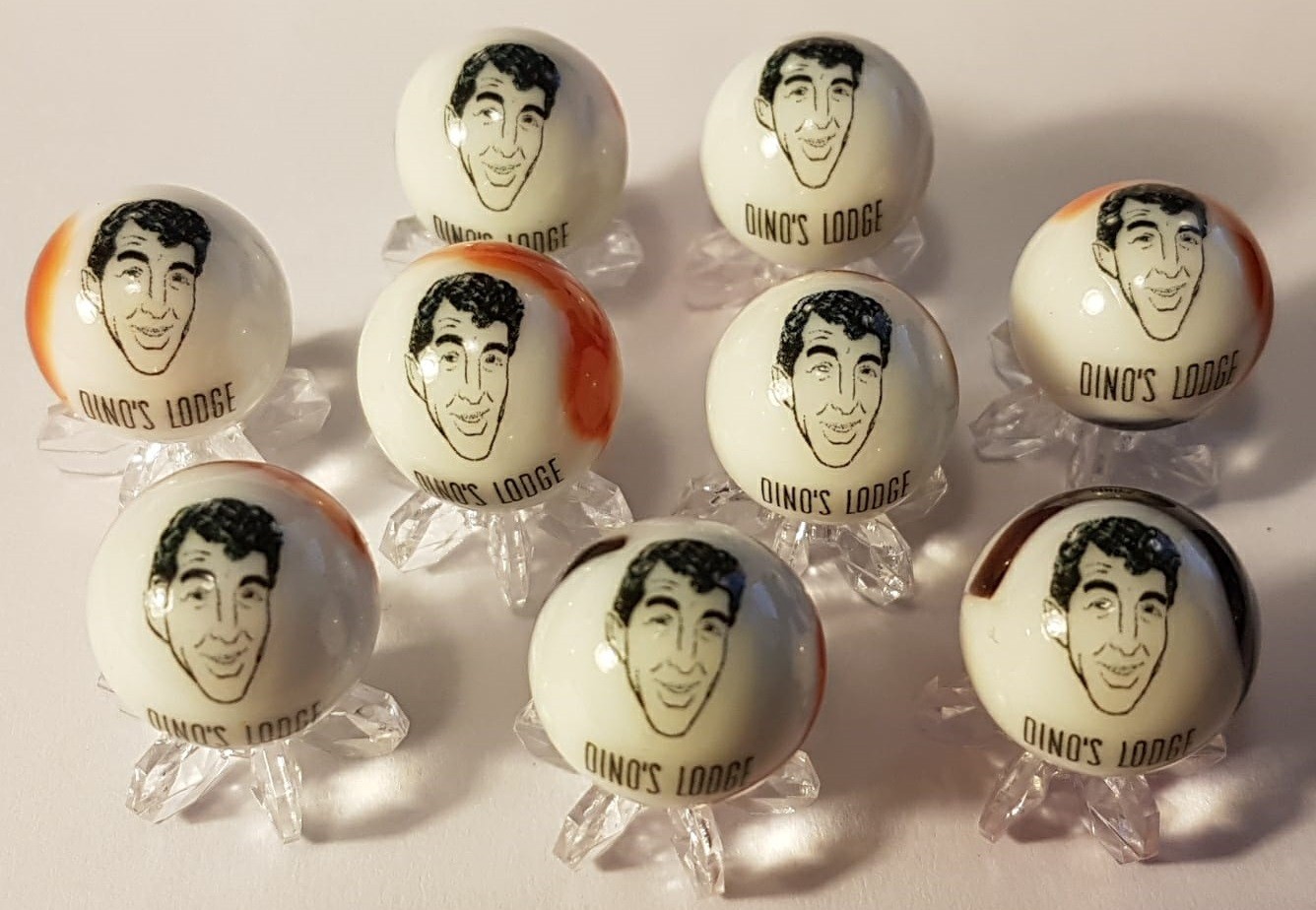 State:--
Completed: Feb 13 2018, 12: 58a. m.
Winning bid: CAD19.99
Approximately C $ 488.66
[1 auction offer]
Shipping: Shipments may not be made to Nicaragua - To know the shipping options, read the description of the item or contact the seller. | See details
Item location:
THE CAPITAL, Canada
Ship to:
Canada, Europe, United States, Australia, Brazil
Delivery:
It varies