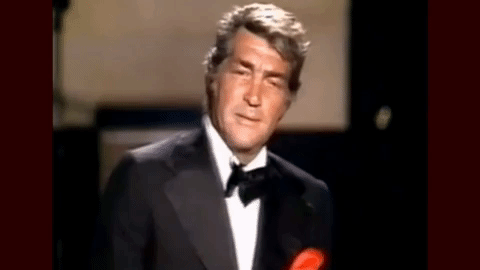 Hey pallies, likes there's an old old sayin', "All Good Things Come To Those Who Wait." And today's Dino-gram powerfully potently proves the absolute truth of this awesome adage. Likes 'round the date of the centennial celebration of our Dino's entrance onto the world's stage, we were lovin'ly led by our Dino-sis,
MISS AOW
, to a twitter pad tagged
#DeanMartin100
where tons and tons of touchin' 'n tender tributes were bein' offered to our most beloved Dino.
Likes pallies the tribute that most completely captured our Dino-hearts was offered by the truest of true Deanager named Daire O'Hagan, a 17 year old laddie from the Emerald Isle. Likes for weeks now we have been tryin' to find the bestest of best way to honor young Daire's honorin' of our Dino. Daire's vids on his Facebook page are not yet up on youtube and thus we had no way of puttin' 'em up here. In the midst of our waitin', our
MISS AOW
emailed us 'bout Daire. Her energetic encouragement made us more and more eager to share Daire's devotion to our Dino with all youse Dino-holics.
Well, most recently through our pallies at Google Dino-'lerts we were perfectly pointed in the direction of the post below from the on-line presence of "BelfastLive" where reporter Miss Shauna Corr has sweetly scribed an amazin' article on Deanager Daire, the perfect way to introduce all youse Dino-philes to this deeply delightful devotee of our most most beloved Dino. Indeed pallies, All Good Things Come To Those Who Wait.
Likes we are totally thrilled to share our new found pallie Daire with the wider Dino-world and we are absolutely appreciative to Miss Corr and all the folks at "BelfastLive" for makin' that possible.
We still ain't able to post Daire's vids directly here at ilovedinomartin, but note we are providin' links to Daire's personal Facebook page for your Dino-viewin' 'n listenin' pleasure. To checks this out in it's original format, simply clicks on the tag of this here Dino-gram.
We remain,
Yours In Dino,
Dino Martin Peters
This 17-year-old's singing voice and youthful looks do not match up
Truly an old soul...
BY SHAUNA CORR
20:24, 7 JUL 2017
NEWS
Is this 17-year-old schoolboy really Dean Martin reincarnated?
We really are wondering...
Carrying the can for the Rat Pack generation, Tyrone teenager Daire O'Hagan said he really doesn't know where his voice came from.
And for that matter, neither do his parents.
The A-Level student told Belfast Live he has "always loved singing" since he was "very young".
And as for his obsession with everything 50s, he just doesn't know.
'My Rifle, my Pony and Me'
"No one knows where it came from," he said.
"I just started listening to Frank Sinatra and Dean Martin when I was younger. I just love everything about the 50s."
The suave young man said he even likes to dress in the style of the day.
"I do try and wear that style," he added.
"If I could look like that every day, I would. I love that era."
Turning heads with his Facebook videos of tunes from back in the day, the young man said he has won fans all across the globe.
But keen to bring the sounds of the 50s to a new generation, he said he was most surprised when people his own age later downloaded the song he uploaded on Dean Martin's birthday.
Daire in Grease and later in the 50s style he loves
"Lots of people just came up to me and were saying they loved it," said Daire.
"Some even bought the first song - My Rifle, my Pony and Me - on Spotify."
First performed by Dean Martin and Ricky Nelson, the song featured in the classic movie Rio Bravo in 1959.
Keen to honour his idol, he said the dead star's 100th birthday gave him the boost he needed.
'My Rifle, my Pony and Me'
'Sway'
"I was always going to do it and never had the nerve," he said.
"It was Dean Martin's 100th birthday so I just did it."
Now Daire's version of the song has been watched more than 44,000 times, and his rendition of Dean Martin classic Sway isn't far behind it.
The talented youngster says he uses any excuse to get a song into the day, but between singing, acting and playing saxophone in Coalisland Silver Band and Portadown Big Band - he said he hasn't much time for anything else.
The St Patrick's Academy lad is even due to tread The Mac boards this summer as Rooster in the hit musical Annie.