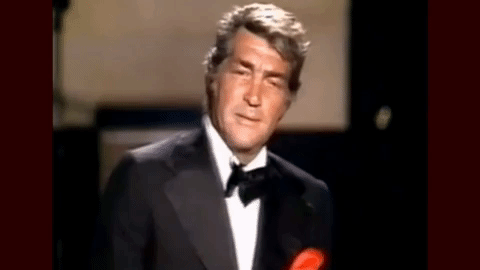 Hey pallies, likes welcome back for a second Dino-helpin' on this 11th day of our marvelously magical month reverently rememberin' our most beloved Dino's 101st anniversary of The Day That Coolness Came To Earth, June 7, 1917. Likes we gotta begins with 'fessin' up that in the midst of all our plans and provisions for bringin' the bestest of the best deepest of deep devotion to our King of Cool on his beautiful birthday we didn't even give a thought to our pallie of pallies Deanager Mr. Daire O'Hagan, youthful Irish crooner extraordinaire who first made his awesome adulation of our Dino known to the wider Dino-world when he shared his coolest of cool croon of that Dino-classic from "Rio Bravo," "My Pony, My Rifle, And Me" in the hugest of huge homage of our Dino last year on Dino's 100th anniversary of his birth.
Likes pallies Daire posted that vid on his facebook music page proudly professin' his deepest delight in our Dino and as he sez in his facebook post below, " I've had such as amazing year since I put up 'My Rifle,my pony and me.'" Youse can read our first post on Daire, "Is this 17-year-old schoolboy really Dean Martin reincarnated?"
HERE
. And, likes to read all our other posts on Mr. O'Hagan's powerful passion for our Dino by simply puttin' his name into the search box of this here Dino-pad.
Well we are most appreciative to the pallies at facebook where we are pallies with Daire on both his personal and music pages that they shared that this his youthful Dino-devotee has potently posted his sweetest of sweet salute to our Dino on his birthday with 'nother coolest of croon of a Dino-tune, this time our most beloved Dino's signature croon, "Everybody Loves Somebody Sometime." The virile vid Daire singin' this Dino-classic can be view
HERE.
Just lovin'ly listenin' to Daire sing this Dino-classic brings the biggest of big Dino-buddha-grins to our faces 'cause youse can hear O'Hagan's lastin' love for our Dino in each and every sweet syllable he sings.
Likes, once 'gain we supremely salute our Dino-hearted pallie Mr. Daire O'Hagan and expess our absolute appreciato for all he is doin' to proclaim his awesome affirmation of our King of Cool and drawin' many many more into the the Dino-fold through eagerly employin' his terrific talents for our one, our only Dino. To checks out Daire's facebook musical page simply clicks on the tag of this Dino-message. We can't wait for yet 'nother op to be able to share Mr. Daire O'Hagan's powerfully potent passion for our Dino and bring you more news of his risin' career as a cool cool crooner himself.
Daire O'Hagan Music is feeling thankful at Northern Ireland.
June 7 at 5:08pm ·
Finished my exams yesterday and the very next day its my favourite singers Birthday. I've had such as amazing year since I put up 'My Rifle,my pony and me.'🔫🐎🤠
I can't thank everyone enough for all the support. Here's to another great year ahead. Happy 101 Birthday Dean🎤🎤👌👍👍👍❤️❤️
Everybody Loves Somebody🎤🎤🎤
Would really appreciate a like and share🙏🏻🙏🏻🤞🏻🤞🏻🤞🏻