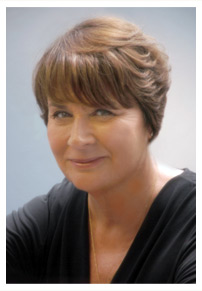 Hey pallies, likes the 90th edition of the Academy Awards will take place this Sunday, March 24, and as we were checkin' out email yesterday we discovered a Dino-'lert from our pallies at google that sent us the way of the all thin's entertainment blog, "THE HOLLYWOOD REPORTER," where Miss Cari Beauchamp (pix 'bove) has swankly scribed an awesome article, "Oscars Flashback: Marlon Brando Bailed on the First Governors Ball in 1958."
Likes as youse will vividly view below, Miss Beauchamp begins here potent prose with an incredible image of our Dino and Miss Jeanne takin' to the dance floor sixty years 'go, in 1958 at a primo party, likes a "dinner dance for 800 following the 30th Awards, held Wednesday, March 26."
Truly, truly likes what makes this particular pose to powerfully potent is that our most beloved Dino and his wife were coolly captured in the center of all the action. A mere coincidence youse quire....we think not pallies!
Likes we beautifully believes that whoever snapped this coolest of cool candid did so when our Dino and Miss Jeanne were on the center mark....so as to make the swingin'est of swingin' statement of how our Dino was central to all the amazin' action that Dino-evenin'
We gotta 'fess up that likes we had a different delightful Dino-gram to shares this Dino-day, but likes we were absolutely totally smitten by this Dino-pix and simply had to share it ASAP with all our Dino-holics pallies here at ilovedinomartin. We thanks Miss Cari Beauchamp for coolly choosin' this incredible image of our Dino and Miss Jeanne to awesomely accent her supreme scribin's. To read the potent prose in total, simply clicks on the tag of this Dino-report.
We Remain,
Yours in Dino,
Dino Martin Peters
Dean Martin (center) hit the dance floor.