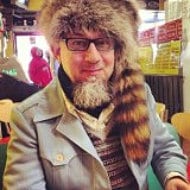 Hey pallies, likes we would be really really remiss if durin' our Dino-amore month celebration we did not share at least some of the wonderful ways that lovers of our most beloved Dino use their coolly creative, terrific talents to hugely homage our Dino with amazin' artistry. Likes over the course of time here at ilovedinomartin we have been deeply deeply delighted to have searched out awesome artistic Dino-adulation that has been swankly shared on the pages of our humble little Dino-blog.
So, likes we set our Dino-course for the pad "Etsy," knowin' that when we typed the name of our Dino into their search engine we woulda find a primo plethora of Dino-creations for our viewin' and purchasin' pleasure. And, pallies we did indeed find some wonderful coolly creative, hand-crafted Dino-treasure to share with all youse Dino-holics.
Likes today we are perfectly pleased to introduce you to Mr. Kevin Bradley, who is the Owner, Maker, Designer, Curator, Prophet of a art biz tagged "ChurchofType in Santa Monica, Cali. Kev sez 'bout his wonderful work, "I have devoted my life to the preservation of letterpress printmaking and the idea of turing graphic design into art by making letterpress editions by hand." And, likes, of course, pallies Bradley has used his great gifts artistically to create the "DEAN MARTIN Rat Pack Hand Printed Woodblock Poster" shared below.
We sweetly stand in awesome awe of how Kev has shared his obviously amazin' appreciato for our most beloved Dino ubberly usin' such an ubber unique artisan art.... letterpress printmakin'. Likes which of us Dino-holics wouldn'ta loves to have such a powerful piece of delightful Dino-artistry for their Dino-pad?!?!?!?! None we dare say! To checks this out in it's original source at "Etsy" simply clicks on the tag of this Dino-gram.
We Remain,
Yours in Dino,
Dino Martin Peters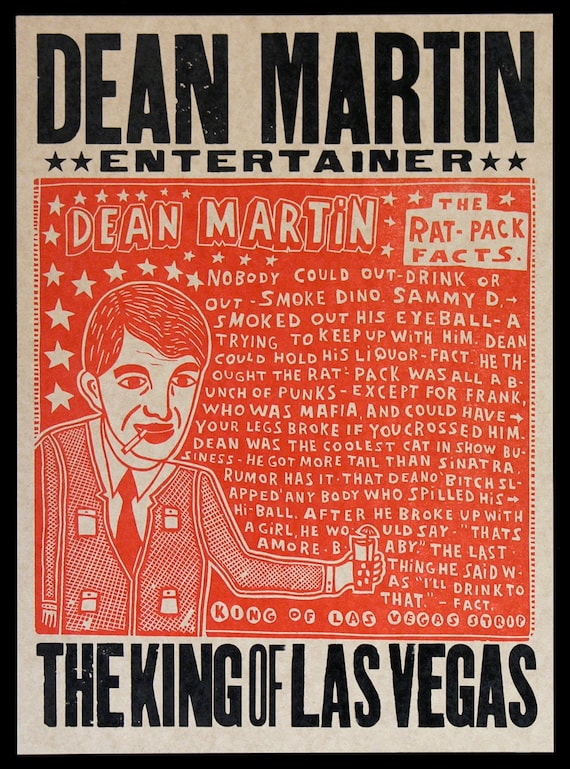 DEAN MARTIN
ENTERTAINER
THE RAT -PACK FACTS
NOBODY COULD OUT-DRINK OR OUT-SMOKE DINO.
SAMMY D. SMOKED OUT HIS EYEBALL - A TRYING
TO KEEP US WITH HIM. DEAN COULD HOLD HIS LIQUOR -
FACT HE THOUGHT THE RAT - PACK WAS ALL A BUNCH
OF PUNKS - EXCEPT FOR FRANK WHO WAS MAFIA, AND
COULD HAVE YOUR LEGS BROKE IF YOU CROSSED HIM.
DEAN WAS THE COOLEST CAT IN SHOW BUSINESS.
HE GOT MORE TAIL THEN SINATRA. RUMOR HAS IT - THAT
DEANO "BITCH SLAPPED ANY BODY WHO SPILLED HIS
HI-BALL. AFTER HE BROKE UP WITH A GIRL HE WOULD SAY,
"THAT'S AMORE BABY. THE LAST THING HE WAID WAS "I'LL
DRINK TO THAT." FACT.
KING OF LAS VEGAS STRIP
THE KING OF LAS VEGAS
DEAN MARTIN Rat Pack Hand Printed Woodblock Poster
$40.00
Description
Dean Martin Rat Pack Facts-legend and myth of the coolest cat in showbiz.
Hand printed letterpress from carved blocks and moveable type on recycled card stock. Approximately 15 x 22. Color may vary based on print run. Please specify if this is an issue.
We are happy to ship INTERNATIONALLY. Please send us your address for a shipping quote!