Hey pallies, likes a gotta say that we are powerfully potently pumped be sharin' the next couple of days' Dino-devotion with all youse Dino-holics gathered 'round our humble little ilovedinomartin waterin' hole. Likes, of course, each and every Dino-day that we shares Dino-magic with you we are perfectly pleased to do so, helpin' to lovin'ly lift up the name of our most beloved Dino and helpin' to draw pallies ever deeper in their devotion to our King of Cool.
But, truth be told, some posts are simply more powerful and more potent then others. Today we are perfectly pleased to introduce all youse pallies to the beau-ti-ful blog tagged "CINESTRANGER - CINEMA OVER THE YEARS (CINESTRANGER - CINEMA AU FIL DES ANS, in the original French). Yes, that's coolly correct pallies, the first thin' that makes today's Dino-effort swankly special is that it INTERNATIONAL IN NATURE, and likes all youse Dino-dudes know how much we deeply digs sharin' Dino-adulation from 'round the globe!
Likes, today's Dino-delight is also superbly special 'cause it is also a marvelous mix of prose and pixs with a great Dino vid clip thrown in for good measure. Whoever the blog is, they have wonderfully wise words to share on the life, times, and teachin's of our Dino and the listin' of our Dino's big screen efforts is a great reference tool as well...we are likes 'specially enjoyin' what some of our Dino's fabulous flicks were tagged en français.
We are most appreciative of this obvious lover of our Dino puttin' such energetic effort into this excellent effort of inspirin' his readership to deeper devotion to our one and only Dino. To checks this out in it's original format, per usual, simply clicks on the tag of this here Dino-gram. Stay tuned in for the morrow as we bring you a second helpin' of Dino-devotion from this new-to-ilovedinomartin blog.
btw pallies, we gotta 'fess up that we ain't sure that we have ever seen the first Dino-pose before...it is coolly class Dino, and we've seen many comparable Dino-images.....how 'bout all youse pallies...have youse see it before?
We remain,
Yours in Dino,
Dino Martin Peters
DEAN MARTIN
Published August 4, 2016 by cinestranger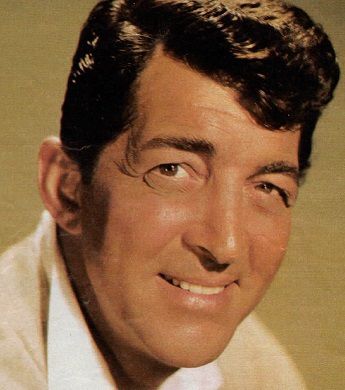 In 1964, Dean Martin was the star of a film in which he played a popular singer named Dino, who liked to drink excessively and caught migraine if he did not love every night. It was obviously a caricature of Dean Martin character; the director was Billy Wilder and the film was titled Kiss Me, Stupid. This rather cruel satire has this spice Dean Martin has probably provided the best interpretation. Soon after, Phil Karlson tried to use the same recipe to launch its series the Silent, in which the famous secret agent Matt Helm parodied much less than James Bond ... Dean Martin, both performer and model. We must believe that there is in the image of the actor something that the public admire, envy and find funny. The rest can wonder how this is close to the true personality of Dean Martin out of the studios: it is highly doubtful that a lazy alcoholic could keep on hand as a successful career, as well as organized and sustainable, as in the comic field (especially with Jerry Lewis) in the dramatic field (Like a flood, Rio Bravo). What is particularly striking about him is the dedication: behind the facade of the gentleman who pretended "not-being-a-player-but-just-a-merry-wino-fucker" hides a comedian first class.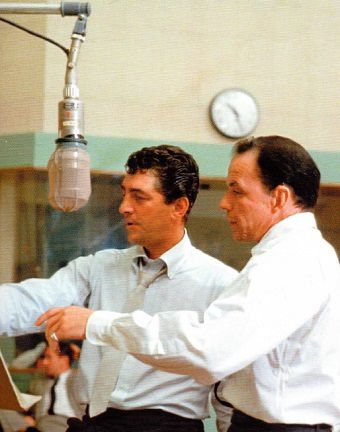 His real name Dino Crocetti, was born June 17, 1917 in Steubenville (Ohio). He began his career as a singer in nightclubs and famous collaboration with Jerry Lewis started in 1946. They made their first film together (My good friend Irma) in 1949 and, from 1952, they were among largest commercial entry terms of the United States. They made eighteen films together before separating in 1956, and they had somehow taken the place of Abbott and Costello. The best films that Lewis and Martin have made together are the last they shot with Franck Tashlin: Artists and Models and Hollywood or Bust; but in none of these two Martin's character was well developed.
The commercial value of Martin declined after its separation from Lewis, but he made a great comeback three years later in Bal cursed (in casual soldier) in Some Came Running (in provincial player) and Rio Bravo (in drunken gunman rehabilitated by John Wayne). After this last role, one of the best he has ever held, it has been great in a thunder number with Judy Holliday.
Having then joined the small "clan" of Frank Sinatra in his private life, he was a partner in fun movies and unpretentious as the Las Vegas Unknown; then he again became one of the ten most quoted Hollywood actors with the series Matt Helm. Since then, Dean Martin still has participated in several successful films, including Airport (where he incarnated again a Don Juan) and several good westerns.
Until his death on 12.25.1995 His last years have been marked by sadness and désaroi after the death of his son in a plane crash in 1987.
GEORGE MARSHALL ... MY GOOD FRIEND IRMA ... MY FRIEND IRMA 1949 ...
HAL IRMA WALKER ... A HOLYWOOD ... MY FRIEND IRMA GOES WEST ... 1950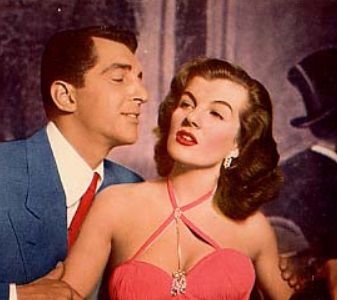 HAL WALKER ... At War with the Army ... AT WAR WITH THE ARMY ... 1950
HAL WALKER ... GOOD BLOOD CAN NOT LIE ... THAT'S MY BOY ... 1951
Norman Taurog ... THE Cabotin AND COMPERE ... The Stooges in 1951 ...
HAL WALKER ... THE POLKA SAILORS ... BEWARE ... SAILOR 1952
Norman Taurog PARACHUTISTE ... ... DESPITE HIM JUMPING JACKS ... 1952
GEORGE MARSHALL ... TU ...... TREMBLES CARCASS 1953
Norman Taurog ... LOVE DELIGHTS AND GOLF ... THE CADDY ... 1953
GEORGE MARSHALL ... A GALLOP DEVIL ... MONEY FROM HOME ... 1953
Norman Taurog ... THIS IS NOT A LIFE ... LIVING IT UP ... 1954
Joseph Pevney ... THE CLOWN IS KING ... THREE RING CIRCUS ... 1954
Norman Taurog ... A PITRE IN RESIDENTIAL ... YOU'RE NEVER TOO YOUNG ... 1955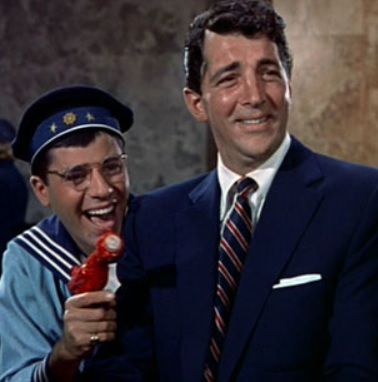 MATHIEU KASSOVITZ ... ARTICLE I ...... 1998
Frank Tashlin ... ARTISTS AND MODELS ... ARTISTS AND MODELS ... 1955
Norman Taurog ... THE TROUILLARD THE FAR-WEST ... 1956 ... Pardners
Frank Tashlin ... Hollywood or Bust ... HOLYWWOD OR BUST ... 1956
RICHARD THORPE ... TEN THOUSAND BEDROOMS ... TEN THOUSAND ... BEDROOMS 1957
EDWARD DMYTRYK ... THE BALL MAUDITS ... THE YOUNG LIONS ... 1958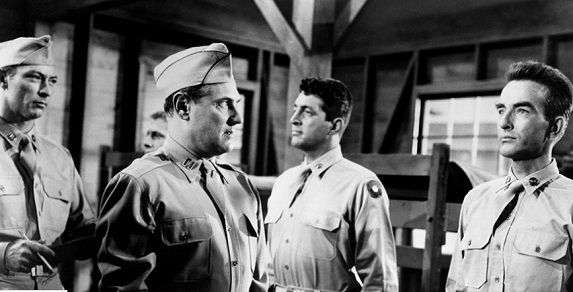 VINCENTE MINNELLI ... AS SOME CAME RUNNING TORRENT ... ... 1958
HOWARD HAWKS ... RIO BRAVO ... 1959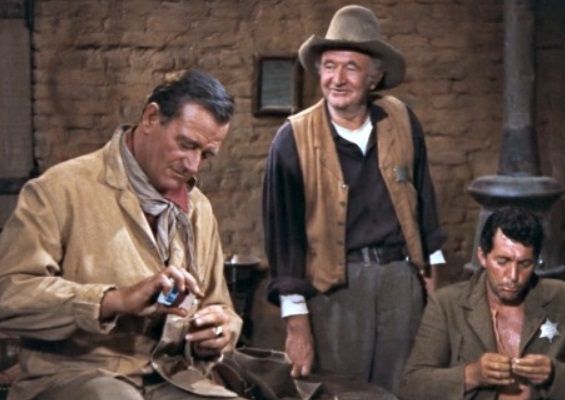 JOSEPH ANTHONY ... PLEASE FIRE ... CAREER ... 1959
VINCENTE MINNELLI ... A NUMBER OF THUNDER ... BELLS ARE RIDING ... 1960
LEWIS MILESTONE ... THE UNKNOWN OF LAS VEGAS ... OCEAN'ELEVEN ... 1960
GEORGE SIDNEY ... PEPE ..1960
JOSEPH ANTHONY ... HE IS ENOUGH OF NIGHT ... ALL IN THE NIGHT'S WORK ... 1961
DANIEL MANN ... THE THIRD MAN WAS A WOMAN ... ADA ... 1961
JOHN STURGES SERGEANTS ... THREE ... SERGEANTS 3 ... 1962
NORMAN PANAMA ... ASTRONAUTS DESPITE THEM ...... 1962
DANIEL MANN ... THE UNKNOWN THE GANG OF GAMES ... WHO'S GOT THE ACTION ... 1962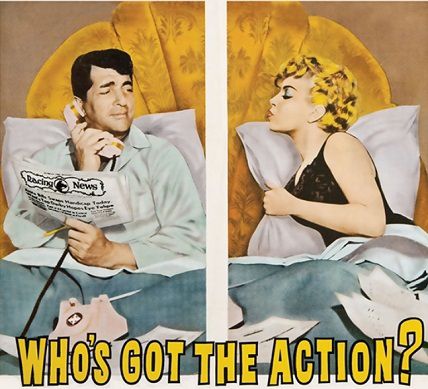 Bud Yorkin ... YOU'RE IN THE RACE PLUS DADDY ... YOU'RE MORE IN THE RACE PAPA ... 1963
GEORGE ROY HILL ... ... TOYS IN THE TUMULT THE ATTIC ... 1963
ROBERT ALDRICH ... FOUR TEXAS ...... 1963
DANIEL MANN ... WEDNESDAY EVENING HOURS ... 9 WHO'S BEEN SLEEPING IN MY BED ... 1963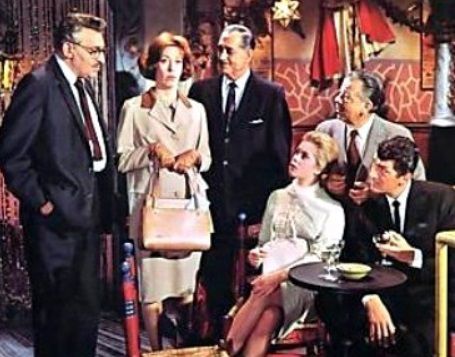 JACK LEE THOMPSON ... MADAME CROQUE MARIS ... WHAT A WAY TO GO ... 1963
DOUGLAS GORDON THE SEVEN THIEVES ... CHICAGO ... ROBIN AND THE 7 HOODS ... 1964
BILLY WILDER ... KISS ME KISS ME STUPID IDIOT ... 1964 ...
HENRY HATHAWAY ... FOUR SON OF KATIE ELDER ... THE SONS OF KATIE ELDER 1965 ...
JACK DONOHUE INSEPARABLES ... THE MARRIAGE ON THE ROCKS ... ... 1965
PHIL KARLSON MATT HELM ... VERY SPECIAL AGENT ... THE SILENCERS ... 1966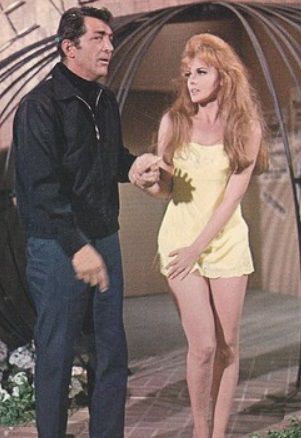 ANDREW MARTON ... BIRDS DO IT ...... 1966
MICHAEL GORDON ... TEXAS HERE WE COME ...... 1966
HENRY LEVIN ... WELL DONE MATT HELM ... Murderers' ROW ... 1966
ARNOLD LAVEN VIOLENCE ... JERICHO ... ROUGH NIGHT IN JERICHO ... 1967
HENRY LEVIN ... MATT HELM TRAQUE 1967 ......
Fielder COOK ... RING FINGER, ROPE IN NECK ... HOW TO SAVE A MARRIAGE AND RUIN YOUR LIFE ... 1968
ANDREW McLaglen BANDOLERO ... ... ... bandelero 1968
HENRY HATHAWAY ... A FIVE CARD STUD CARD BREAKING ... 5 ... 1968
PHIL KARLSON ... MATT HELM ITS RULE THE WRECKING CREW COUNTY ... 1968 ...
SEATON GEORGE AIRPORT ... ...... 1970
ANDREW V MACLAGLEN ... RIO VERDE ... SOMETHING BIG 1971 ...
GEORGE SEATON ... DUEL IN THE DUST ... SHOWDOWN ... 1973
NEEDHAM HAL ... THE KITCHEN OF THE CANNONBALL CANNONBALL ... RUN ... 1981
NEEDHAM HAL Cannonball ... Cannonball Run 2 ... 2 ... 1983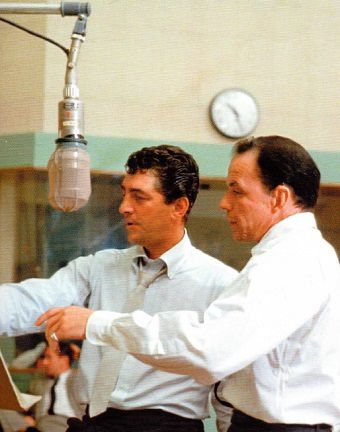 DEAN MARTIN
Publié le 4 août 2016 par cinestranger
En 1964, Dean Martin a été la vedette d'un film dans lequel il incarnait un chanteur populaire nommé Dino, qui aimait boire plus que de raison et attrapait la migraine s'il ne faisait pas l'amour tous les soirs. C'était évidemment une caricature du personnage Dean Martin ; le réalisateur en était Billy Wilder et le film s'intitulait Embrasse-moi, idiot. Cette satire assez cruelle a ceci de piquant que Dean Martin y a probablement fourni sa meilleure interprétation. Peu après, Phil Karlson a essayé de recourir à la même recette pour lancer sa série les Silencieux, dans laquelle le fameux agent secret Matt Helm parodiait beaucoup moins James Bond que... Dean Martin, à la fois interprète et modèle. Il faut croire qu'il y a dans l'image de cet acteur quelque chose que le public admire, envie et trouve drôle. On peut du reste se demander dans quelle mesure cette image est proche de la véritable personnalité de Dean Martin hors des studios : il est fort douteux qu'un alcoolique paresseux ait pu tenir en main une carrière aussi réussie, aussi bien organisée et aussi durable, tant dans le domaine comique (spécialement avec Jerry Lewis) que dans le domaine dramatique (Comme un torrent, Rio Bravo). Ce qui frappe surtout chez lui, c'est la conscience professionnelle : derrière la façade du monsieur qui fait semblant de « n'être-pas-un-acteur-mais-seulement-un-jovial-baiseur-poivrot » se dissimule un comédien de premier ordre.
De son vrai nom Dino Crocetti, il est né le 17 juin 1917 à Steubenville (Ohio). Il a commencé sa carrière comme chanteur dans les boîtes de nuit et sa célèbre collaboration avec Jerry Lewis a débuté en 1946. Ils ont fait ensemble leur premier film (Ma bonne amie Irma) en 1949, et, à partir de 1952, ils étaient parmi les plus grosses vedettes commerciales des Etats-Unis. Ils ont fait dix-huit films ensemble avant de se séparer en 1956, et ils avaient en quelque sorte repris la place d'Abbott et Costello. Les meilleurs films que Lewis et Martin aient faits ensemble sont les derniers qu'ils aient tournés avec Franck Tashlin : Artistes et modèles et Un vrai cinglé de cinéma ; mais dans aucun de ces deux-là le personnage de Martin n'était très développé.
La valeur commerciale de Martin a baissé après sa séparation d'avec Lewis, mais il a fait une rentrée superbe trois ans plus tard dans le Bal des maudits (en soldat désinvolte), dans Comme un torrent (en joueur provincial) et dans Rio Bravo (en tireur ivrogne réhabilité par John Wayne). Après ce dernier rôle, l'un des meilleurs qu'il ait jamais tenus, il a encore été excellent dans Un numéro du tonnerre avec Judy Holliday.
S'étant ensuite joint au petit « clan » de Frank Sinatra dans sa vie privée, il a été son partenaire dans des films amusants et sans prétention comme l'Inconnu de Las Vegas; puis il est redevenu l'un des dix acteurs les plus cotés de Hollywood avec la série de Matt Helm . Depuis lors, Dean Martin a encore participé à plusieurs films à succès, dont Airport (où il incame une fois de plus un don Juan) et plusieurs bons westerns.
Jusqu'à son décès le 25/12/1995 Ses dernières années auront été marquées par la tristesse et le désaroi après le décès de son fils dans un accident d'avion en 1987.
GEORGE MARSHALL...MA BONNE AMIE IRMA...MY FRIEND IRMA...1949
HAL WALKER ...IRMA A HOLYWOOD ...MY FRIEND IRMA GOES WEST ...1950
HAL WALKER...LE SOLDAT RECALCITRANT ...AT WAR WITH THE ARMY...1950
HAL WALKER...BON SANG NE PEUT MENTIR ...THAT'S MY BOY ...1951
NORMAN TAUROG...LE CABOTIN ET SON COMPERE ...THE STOOGE...1951
HAL WALKER ...LA POLKA DES MARINS ...SAILOR BEWARE ...1952
NORMAN TAUROG...PARACHUTISTE MALGRE LUI ...JUMPING JACKS...1952
GEORGE MARSHALL...TU TREMBLES CARCASSE ......1953
NORMAN TAUROG ...AMOUR DELICES ET GOLF ...THE CADDY...1953
GEORGE MARSHALL...UN GALOP DU DIABLE...MONEY FROM HOME...1953
NORMAN TAUROG ...CE N'EST PAS UNE VIE ...LIVING IT UP...1954
JOSEPH PEVNEY ...LE CLOWN EST ROI ...THREE RING CIRCUS ...1954
NORMAN TAUROG...UN PITRE AU PENSIONNAT ...YOU'RE NEVER TOO YOUNG...1955
MATHIEU KASSOVITZ...ARTICLE PREMIER......1998
FRANK TASHLIN ...ARTISTES ET MODELES ...ARTISTS AND MODELS ...1955
NORMAN TAUROG...LE TROUILLARD DU FAR-WEST...PARDNERS...1956
FRANK TASHLIN ...UN VRAI CINGLE DE CINEMA ...HOLYWWOD OR BUST...1956
RICHARD THORPE...DIX MILLE CHAMBRES A COUCHER ...TEN THOUSAND BEDROOMS...1957
EDWARD DMYTRYK...LE BAL DES MAUDITS...THE YOUNG LIONS...1958
VINCENTE MINNELLI...COMME UN TORRENT...SOME CAME RUNNING...1958
HOWARD HAWKS ...RIO BRAVO ...1959
JOSEPH ANTHONY...EN LETTRES DE FEU ...CAREER ...1959
VINCENTE MINNELLI...UN NUMERO DE TONNERRE...BELLS ARE RIDING...1960
LEWIS MILESTONE...L'INCONNU DE LAS VEGAS...OCEAN'ELEVEN...1960
GEORGE SIDNEY ...PEPE ..1960
JOSEPH ANTHONY...IL A SUFFIT D'UNE NUIT...ALL IN THE NIGHT 'S WORK...1961
DANIEL MANN...LE TROISIEME HOMME ETAIT UNE FEMME...ADA...1961
JOHN STURGES...LES TROIS SERGENTS...SERGEANTS 3...1962
NORMAN PANAMA ...ASTRONAUTES MALGRE EUX ......1962
DANIEL MANN ...L'INCONNUE DU GANG DES JEUX ...WHO'S GOT THE ACTION ...1962
BUD YORKIN ...T'ES PLUS DANS LA COURSE PAPA ...T'ES PLUS DANS LA COURSE PAPA ...1963
GEORGE ROY HILL...LE TUMULTE...TOYS IN THE ATTIC...1963
ROBERT ALDRICH ...QUATRE DU TEXAS......1963
DANIEL MANN ...MERCREDI SOIR 9 HEURES ...WHO'S BEEN SLEEPING IN MY BED ...1963
JACK LEE THOMPSON...MADAME CROQUE MARIS ...WHAT A WAY TO GO...1963
GORDON DOUGLAS...LES SEPT VOLEURS DE CHICAGO...ROBIN AND THE 7 HOODS...1964
BILLY WILDER...EMBRASSE MOI IDIOT...KISS ME STUPID...1964
HENRY HATHAWAY...LES QUATRE FILS DE KATIE ELDER ...THE SONS OF KATIE ELDER...1965
JACK DONOHUE...LES INSEPARABLES...MARIAGE ON THE ROCKS...1965
PHIL KARLSON...MATT HELM AGENT TRES SPECIAL...THE SILENCERS...1966
ANDREW MARTON...BIRDS DO IT......1966
MICHAEL GORDON...TEXAS NOUS VOILA......1966
HENRY LEVIN...BIEN JOUE MATT HELM...MURDERERS' ROW...1966
ARNOLD LAVEN ...VIOLENCE A JERICHO ...ROUGH NIGHT IN JERICHO...1967
HENRY LEVIN ...MATT HELM TRAQUE ......1967
FIELDER COOK...BAGUE AU DOIGT, CORDE AU COU ...HOW TO SAVE A MARRIAGE AND RUIN YOUR LIFE...1968
ANDREW MCLAGLEN...BANDOLERO...BANDELERO...1968
HENRY HATHAWAY...CINQ CARTES A ABATTRE...5 CARD STUD...1968
PHIL KARLSON...MATT HELM RÈGLE SON COMTE ...THE WRECKING CREW...1968
GEORGE SEATON...AIRPORT......1970
ANDREW V MACLAGLEN...RIO VERDE...SOMETHING BIG...1971
GEORGE SEATON ...DUEL DANS LA POUSSIERE ...SHOWDOWN ...1973
HAL NEEDHAM...L'EQUIPEE DU CANNONBALL ...THE CANNONBALL RUN...1981
HAL NEEDHAM...CANNONBALL 2...CANNONBALL RUN 2...1983